How 'Parenthood' Nailed Haddie's Coming Out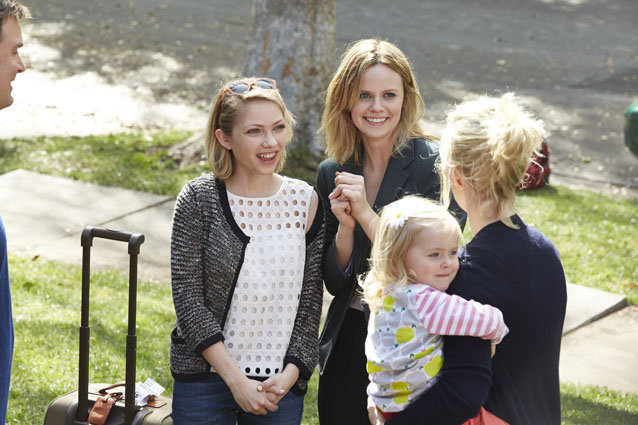 NBC Universal Media
As Season 5 of Parenthood cruised on with the usual mix of happy and sad tears, fans couldn't help wondering one thing: had Haddie Braverman (Sarah Ramos) just been a figment of our imagination? Adam and Kristina's eldest daughter got some serious screentime in the series as a high schooler, struggling with relationships, her parents, and the business of growing up in general. Then she went off to Cornell and was hardly even spoken of.
So the return of Haddie in the season finale was long anticipated and even a little enigmatic. Her absence set up a significant pay-off: Haddie shows up on her parents' doorstep with Lauren, who she at first tells her parents is her best friend at school. We learn that Lauren is actually Haddie's girlfriend, and Parenthood begins its first significant LGBTQ character arc.
The Bravermans are anything but conservative — they live in Berkeley, after all — but coming out is still a stressful thought for Haddie. Lauren, all support and understanding, encourages Haddie to tell her parents the truth. Her brother Max does half the job for her, walking in on Haddie and Lauren kissing in her room. "If two girls are kissing, does that mean they're lesbians?" he asks his mother while being fitted for a suit. Monica Potter plays Kristina's confusion beautifully and even comically ("Buddy?") — but there's a moment where she puts two (the way that Lauren and Haddie act around each other) and two (what Max just told her) together. Kristina reaches out to Haddie, because we know she's not the type of mother to patiently wait for an answer. When Haddie says that she didn't want to "scare" her parents with the news, Kristina looks shocked. "Scare me? How? No, honey, no. I would never be upset with you for following your heart. Never."
But we have to give Adam Braverman the Parent of the Year nod this time around. He somehow works out the change in his daughter's life on his own — we see the revelation when he talks to Lauren about their friendship. And instead of doubling down on the big "coming out" talk, Parenthood gives us a silent, poignant moment with Haddie and her dad, as if we're observing their conversation from across the backyard party.
Parenthood hit all the right notes here. Here's hoping that Haddie isn't as MIA in season six, so the series has a chance to continue her story.