'Parenthood' Season 5 Scoop: Can We Expect More 'Friday Night Lights' Crossovers?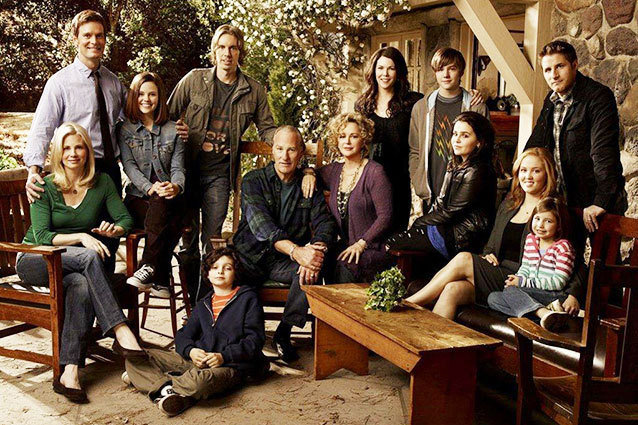 "I think with Parenthood, if you don't laugh a little bit and you don't cry a little bit, you might be a sociopath," Peter Krause jokes with a theater filled with fans at Thursday night's PaleyFest panel. Parenthood creator Jason Katims and 12 of the incredible gifted members of the cast graced the stage to talk about the most emotional show on television, their hopes for a fifth season, and if more Friday Night Lights stars will be joining the Braverman family.
When asked flat-out if a fifth season is likely to happen, Katims deflected the question to the youngest actor on stage Max Burkholder. The surprisingly eloquent 15-year-old, tells audiences, "You can never be sure, but I am definitely crossing my fingers." As are we!
RELATED: Why NBC Has to Bring Back 'Parenthood'
If NBC renews the drama for a fifth season, Katims says the show will not pick up right where it left off. Like all Parenthood season premieres, a few months will have passed since we last saw our dysfunctionally fun family. "Hypothetically, usually what we do is there will be a time jump like in real time or somewhere close to that," he says.
Although we don't know for sure if a new season is headed our way this fall, we do know that we definitely want to see Matt Lauria on our TV screens — and so does Katims! "Let's say there's a Season 5: I absolutely loved the dynamic between [Amber and Ryan] and I would love to continue that storyline." However, the creator did express one major concern: "Matt may or may not be available next year, so we'll have to see what happens."
RELATED: 'Parenthood' Finale: Was This Goodbye or See You Later?
Lauria's on-screen girlfriend Mae Whitman quickly chimed in on the matter: "Oh, he's available! He's one of my closest friends and I really hope he comes back because I love working with him."
Fans of Friday Night Lights have absolutely loved seeing their favorite actors transition into characters in the Braverman world, so many are hoping to see more if/when the fifth season is announced. When the topic of FNL hit the stage, Whitman not-so-subtly coughed her suggestion into her microphone. "Tim Riggins! Ahem! Tim Riggins, Tim Riggins!"
RELATED: You Should Really be Watching 'Parenthood'
Katims quickly agreed saying he hopes to have to opportunity to bring more of his clear eyes, full hearts-family onto Parenthood. "I have loved brining these actors on," he says. The showrunner explains that the writers have never created a character specifically for an actor, it just so happens that the FNL actor fits the character.
"The way that it has generally worked with these actors that we have come on to Parenthood is we'll break the story and come up with a character and someone will say, 'Well he's somebody like Michael B. Jordan.' And then we'll all be like well how about Michael B. Jordan?" Katims continues, "That's kind of how it has happened and several times we've gotten really lucky that these actors that we've started to visualize for those roles were available."
Fingers crossed NBC will renew Parenthood for a fifth season so we'll get to see even more tear-jerking moments, heart-warming storylines and Friday Night Lights alum!
Follow Leanne on Twitter @LeanneAguilera
[Photo Credit: NBC]
---
From Our Partners:


Seal Is Dating the Pink Power Ranger: Report (Vh1)


60 Celebrity Bikini Bodies: Guess Who! (Celebuzz)