'Parks and Rec'-ap: Van, Go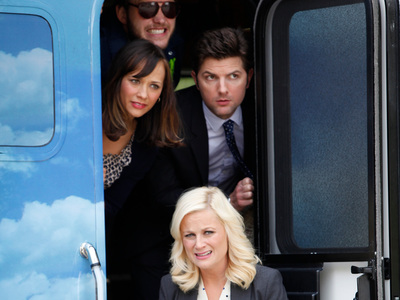 Leslie Knope is so close to the finish line she can almost taste it. (It would, of course, taste like waffles.) Now just two points behind Bobby Newport in the polls, our beloved Leslie seems all but ready to take the City Council seat she so richly deserves despite having an endlessly disastrous campaign that's included drunken on-camera gaffes and an opponent who has paid his way to the top.
But the worst had to be over, right? Leslie (the endlessly great Amy Poehler) made a stunning comeback during the biased debate that rocketed her back to the top and she was taking her ace team on the road aboard the S.S. Knope for a bus tour that included crowd-pleasing speeches. Tee shirt guns! Dancing girls! Rodney Dangerfield impressions! (Okay, not that last one so much.)
Leslie may not get respect like Mr. Dangerfield (looking at you, Joan Callamezzo), but it's her plain bad luck that could really destroy her chance at winning the race for City Council. During last night's Season 4 penultimate Parks and Recreation episode, titled "Bus Tour", Leslie's victory stride came to a screeching halt when she accidentally said the wrong thing at the wrong time.
During one of her guaranteed home run 10 minute, 40 second stump speech (where she hilariously promised the people of Pawnee that she would "finally eliminate the city's libraries") a journalist asked Leslie for a statement regarding the father of her rival Bobby Newport (Paul Rudd) and the founder of Sweetums, Nick Newport. The steadfast, headstrong told the reporter that Mr. Newport is a "jerk" who has been detrimental to Pawnee thanks to his monopolistic business stance and causing the town's pollution from his Sweetums factory. It was a bold strike at her opponent that went straight for the jugular….of a dead man.
Yes, our Leslie was a victim of that famed "gotcha" journalism as she then asked if she wanted to follow-up that statement with a comment on the recent passing of Nick Newport. Aside from the fact that there's no way word wouldn't have spread through Pawnee immediately regarding Mr. Newport's death (Ben especially would have been on top of that crucial news) Leslie is left stunned and stumped with her campaign hanging in the balance. Well, she did manage to get out an "I…sad." I sad, too, Leslie. I sad, too.
Leslie immediately tried to soften the blow of JerkGate, but instead wound up making matters so much worse. She read her book Groffle the Awful Waffle to local school children (please, please someone publish this book for real) and somehow compared the deceased Mr. Newport to Hitler and Stalin and then drove the S.S. Knope to the Newport residence to make a private apology to Bobby, only to find a swarm of press waiting to watch her accidentally run over Mr. Newport's memorial. It looked like a Rodney Dangerfield-laced concession speech was officially on the horizon.
But, come on, this is Leslie Knope! If anyone knows what she's doing, even in the midst of total chaos, it's her. With hat in hand, Leslie finally got to talk to Bobby one-on-one for a heartfelt chat, in which she told him a sweet story about her own parents expectations and pride. Despite the fact that he didn't exactly get the point of the story ("Your mom and my dad are dicks") Bobby still pawned it off as his own during a press conference outside his house, earning compassion from the crowd. No respect, I tell ya. Then, once again, Bobby's kindhearted ignorance worked to the advantage of the "megacool" Leslie. "If you don't for me tomorrow," he told the crowd, "You should vote for her." Maybe we'll get to hear "Catch Your Dream" one more time next week, after all.
Of course, Leslie is a one-woman machine that has a lot of working parts. While she was busy fighting a fire she started, her unstoppable team were putting out some other ones. Ron, Donna, and Tom were sent on a mission to retrieve vans that were purchased by the Knope campaign to transport senior citizens to voting booths that were seized by the Newport campaign thanks to some shady bribing to van owner Bill (guest star Mike O'Malley.) Tom tried convincing him to get on board with his latest venture Yogurt Platinum, Ron attempted to level with him man-to-man and make a counteroffer, but the greedy Bill could not be swayed. In the end, what it took was a not-so-loving tap to Donna's baby, her Benz, to get the vans back. After Donna slammed into Bill's truck, the deal was simple: Give us the vans and we'll pretend this whole thing never happened. And that's why you don't mess with Ginuwine's cousin.
Meanwhile, Chris was once again trying to fight off his "bottomless pit of despair" (April tried to help with encouraging words, but ultimately it was Bobby's campaign manager Jennifer's offer to have sex that did the trick) and Burt Macklin, thankfully, reappeared to solve the mystery of pie thrower. After some crack investigation, which primarily involved repeatedly hitting the victim Jerry with a pie and drawing on the TV in permanent marker, Burt Macklin ––FBI! –– discovered Sewage Joe had been aiming for Ben and hit Jerry instead. Between the return of Burt Macklin and Andy's movie reenactments from last week's episode, Chris Pratt officially has my vote for Season 4 MVP.
Now, the other best moments and lines from last night's Parks and Rec "Bus Tour":
– Leslie imagining President Barack Obama at her City Council inauguration.
– Leslie's plan to live out the rest of her days on the S.S. Knope with Ben.
– Leslie's 'Sorry For Your Loss' fruit basket includes "no melon, no apples"
– Bobby's cute and strikingly similar Wii bowler
– The gang's code names, as chose by Andy (Eagle 1): Been There Done That (Ann), Currently Doing That (April), Happened Once in a Dream (Donna), If I Had To Pick a Dude (Chris), Eagle 2 (Ben)
– "Just so you know, you're still at large." – Andy, to the unidentified pie perp
– "Good answer, great body"- Leslie, to Ben
– "I wasn't listening, but I strongly disagree with Ann." – April, to Ann
– "Dark places are awesome."- April, to Sad Chris
– "Well, it is. But you're an a**hole." – Ron, to Bill about the importance of a gentleman's agreement
More:
Parks and Rec Boss Mike Schur and Cast on Finale: 'We Went With Our Gut'
Parks and Rec is Back!: What We Hope To See Before the Season Finale