'Parks and Rec'-ap: Vote or Die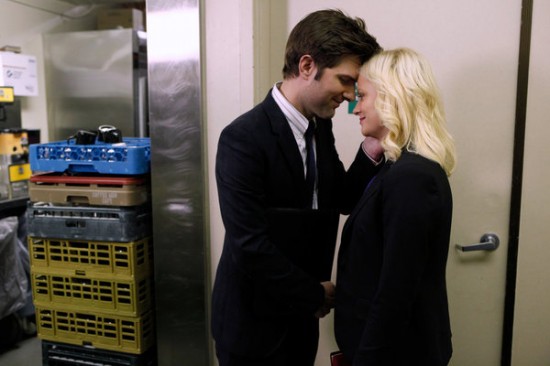 Nearly midway through last night's bittersweet Season 4 finale of Parks and Recreation, titled "Win, Lose or Draw" Andy uttered what sounded like a dreadful foreshadowing: "This is the worst thing to happen in Parks and Rec history." Of course, Andy wasn't talking about the results for Leslie Knope's campaign for City Council (he was talking about his wife April's monumental work flub, but more on that in a bit.) But for an episode that was going to be the culmination of a season of holding our breath for our beloved Leslie, those words resonated like some sort of awful premonition.
But before we get to whether or not Leslie's election results turned out to be "the worst thing to happen in Parks and Rec history" lets start from the very beginning. (I've been told this is a very good place to start.) Leslie and Ben met with Jennifer (Kathryn Hahn, don't go!) at a voting committee meeting to discuss yet another unfair Bobby Newport trick in this election. This time around the Newports made candy-dispensing voting booths that treated voters for picking Bobby and asking Knope supporters if they were sure of their vote and cried when they didn't change their mind.
Even with all their tricks and bamboozles (clearly the Newports knew not of Leslie's victory in the art world) Leslie was only separated from Bobby by a "razor thin" margin. And, even though she was on the "verge of a nervous breakdown" (in her exhausted state she almost ate her cell phone with cream cheese) Leslie, as always, had her head in the game. Still, even the most determined and headstrong, like our own lovely Leslie can't help but eventually feel the brevity of what's happening to them. After a puzzling meeting with Bobby (her endlessly hopeless rival earnestly told her he was voting for her because voting for yourself is "illegal") and an even more puzzling conversation with her boyfriend/campaign manager/Sexy Elf King Ben.
Her partner-in-crime revealed that Jennifer had offered him a position as a coordinator in Washington, D.C. for a congressional campaign for a Senator. Oh, and he'd be gone for six months and he'd have to make a decision in two days. Leslie could have eaten an cell phone with cream cheese and waffles (mmmm) and it would have been entirely understandable.
But Leslie had to put all those distractions aside: She had to head into the voting booth and fulfill her lifelong dream of seeing her name on a ballot in Pawnee. Teary-eyed and overwhelmed with pride a joy, Leslie voted for herself. And when Leslie Knope cries tears of joy, the whole world cries tears of joy. (Or at least I definitely do.) And when Leslie Knope cries "My dream is dead….oh, f**k" after she finds out that Bobby Newport beat her in the hard-fought election by 21 measly votes, the whole world cries "Oh, f**k" right along with her. What a gut punch that moment was as Leslie watched her lifelong goal be handed to her undeserving foe.
Speaking of people crying "Oh, f**k," April was back at the Parks and Rec office freaking out after she erased all the files from all the computers. ("You did the right thing by hiding under the table," her husband reassured her.) After some plans to run away and start a new life (Andy suggested they burn acid on their fingertips and switch faces, if need be) Donna, as always, came to the rescue and saved the day. Turns out, she created a backup system because Gerry does it all the time. Dammit, Gerry!
Back at the Jermaine Jackson Suite (ha!) things were taking a turn for the better, too. After encouraging Ben to follow his dream and go to Washington (if anyone can survive a long-distance relationship, it's these two) and waiting out a recount, beautiful Ann came back with news: It was still a victory by 21 points. Only, those 21 points were won by the new City Councilwoman Leslie Knope. Victory speeches were made (Ben, sweetly, didn't even bother writing a concession speech), happy tears were shed, and Leslie hung her photo up on the wall with pride. (As well she should, she was the only woman up there.)
While its Thursday night brethren Community and 30 Rock have already been picked up for new seasons, Parks and Rec still hangs in the balance. But, if this were to be the very last episode of the series (weep!) not even silly side plots like Chris hooking up with Jennifer or Tom and Ann getting back together can take away from how wonderful this was for Leslie. (Michael Schur, thank you for going with your gut.) I hope more than anything that our wonderful friends at Pawnee return. Ron may always want things to stay the same (after all, he turned down Chris' position) but life doesn't always grant us that. If we don't see you again Leslie, just know, we'd jump off that cliff with you, too.
Some of the other best lines and moments from "Win, Lose or Draw":
– The Jermaine Jackson Suite (He visited Pawnee once!)
– Tom referring to Ben as an "uptight nerd who shall remain nameless."
– Andy's list of dream locations to move away with April: Winterfell (!), South Africa (home of Andy's hero Dave Matthews), U.S.S.R. (Russia), the moon, Florida (Everglades), Key Largo, Montego, Cocomo.
– Andy trying to fix the computer X-Box style: By blowing on it and swatting it off the table.
– April's dream job is to be a dentist/medium so she "can clean people's teeth and tell them when they're going to die."
– April's worst fear after losing her job: Getting another lecture from Leslie on the importance of responsibility.
– Ron's motto: "I've never been one for meeting new people or doing new things, or eating new types of food, or traveling outside of Southern Indiana. I've had the same haircut since 1978, and I've driven the same car since 1991. I've used the same wooden comb for three decades. I have one bowl. I still get my milk delivered by horse." (I love you forever and always, Ron Swanson. Never change.)
– Ben spitting out the dark drink Ron, who was 11 whiskeys in, ordered him.
– Ben, trying to change the subject with Leslie: "Where can I buy some jeans?" (Her response: "You have plenty of jeans!)
– Leslie almost being swayed out of a recount with the promise of Joe Biden's phone number.
– Bobby Newport described by Perd Hapley as an "amateur go-kart champion."
– Bobby playing with the boom mic and later getting ink all over himself in the voting booth.
– Bobby's concession speech: "Honestly, I've never been more relieved in my entire life."
– The return of Jean Ralphio! Cleared of insurance fraud charges and wearing a jaunty scarf!
– The return of Drunk Ann!
– Gerry forgetting to vote and Ron ratting him out at the very end. Dammit, Gerry!
– The idea of Officer Andy Dwyer. FBI Agent Bert Macklin would be so proud.
– Leslie's promise to Ben: "We'll do it all over Washington."
– Leslie celebrating with "victory waffles" and to "stay up all night talking about our lives and our feelings." (I love you forever and always, Leslie Knope.)
What did you think of the finale? Are you relieved Leslie won? Do you fear this was the very last ep ever? Sound off in the comments section.
[Photo credit: NBC]
More:
Parks and Rec Boss Mike Schur and Cast on Finale: 'We Went With Our Gut'
Parks and Rec, Community On Track to Return