'Parks and Rec' Cast Talks Renewal, Couples and Bill Murray?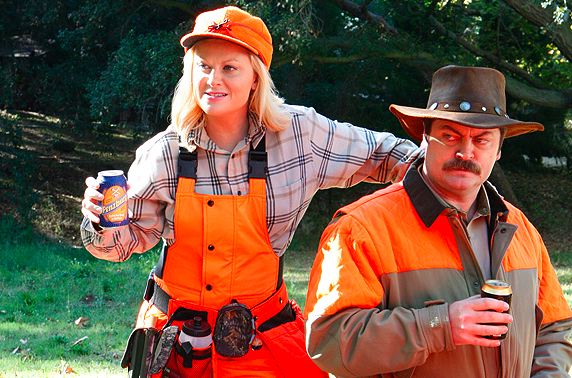 Thanks to a little panel at PaleyFest, we can look forward to some really great news for one of the best shows on television, Parks and Recreation. First up, the cast and producers don't seem to be worried in the least about a renewal. Now's the time of year when people like me start panicking because there's been no word on the fate of a handful of great shows (like Parks and Rec and Community) while other shows are getting two and three year extensions handed out like the participation ribbons in the elementary school Olympics (ahem, Big Bang Theory), but we forget that there's still so much time in between now and the start of production for next season. No one needs to start panicking until May; and when a show is as critically beloved as Parks and Rec and its ratings are good enough, I doubt NBC would put the rug out from under it. Whew.
Anyway, onto the goods or spoilers if you're squeamish. What can we look forward to in the future of Pawnee? We already told you earlier that Rob Lowe would be sticking around as a series regular for a few years, but it looks like Adam Scott will be sticking around too. It looks like Leslie will finally start noticing a little something between her and Ben (Scott), but first she'll become a local celebrity thanks to the success of the Harvest Festival. It looks like things will finally start looking up for good ol' Knope.
We can also look forward to more Tammy Swanson courtesy of Nick Offerman's real life wife, Megan Mullally. Offerman says of Ron's next encounter with Tammy "The Eye of Satan's Butthole" Swanson that we can expect, "Full penetration. There's only so much foreplay a fella can take." Well, I think that answers that question. I guess we can look forward to more"friction" between the pair — let's just hope they leave cornrows out of the equation this time. (It's not a good look.)
If Amy Poehler gets her way, Bill Murray will make an appearance as Pawnee's mayor when the fated day that we meet him finally arrives. Hey Twitter, this sounds like a worthy campaign if you ask me. (#MurrayForPawneeMayor, do it.) Also on the docket is a bit of entreprenurial success for Tom Haverford (Aziz Ansari), a long-lived bout of "slut" behavior from Anne Perkins (Rashida Jones) and some rocky roads for sweethearts Andy and April (Chris Pratt and Aubrey Plaza). Now, here's hoping that my theory about renewal is right. I'm already having a panic attack because I have to wait until next week for a new episode.
Source: TVLine