'Parks and Rec,' 'The Office,' 'Up All Night' Renewed By NBC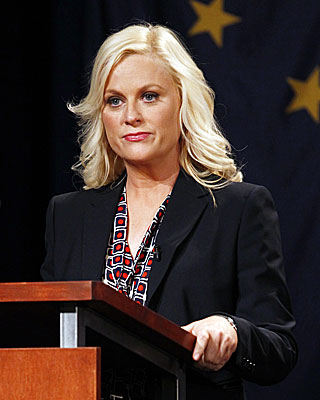 What a glorious past 24 hours this has been for Leslie Knope. The newly appointed City Councilwoman of Pawnee has something else to celebrate: Parks and Recreation has been picked up for a full fifth season by NBC. Victory waffles for all!
The fan and critical favorite joins its Thursday night comrades 30 Rock and Community, which were picked up yesterday by the network for a 13-episode stint each. (Parks, on the other hand, have been given a full 22-episode pick-up for Season 5.) Also staying put on NBC's Thursday night lineup is the freshman sitcom Up All Night and comedy staple The Office. Assuming there's no schedule shake-ups, it looks like Thursday will remain the same. Ron Swanson will be so thrilled.
While it's surprising that the beloved, but minimally watched like Parks, 30 Rock, and Community will be back for more, the biggest renewal shocker is that NBC has also decided to bring back the widely panned Wednesday night comedy Whitney. Good news for Whitney fans (show yourself!) but bad news for 30 Rock (we miss you, Jonathan!)
Alternately, there was no good news for Awake, Are You There Chelsea?, Bent, or Best Friends Forever. The newbies will all go to the great Single Season TV Show palace in the sky.
[Photo credit: NBC]
More:
Why I'm Finally Breaking Up With The Office