'Parks and Recreation' Blooper Reel: Andy Loves No. 2 — VIDEO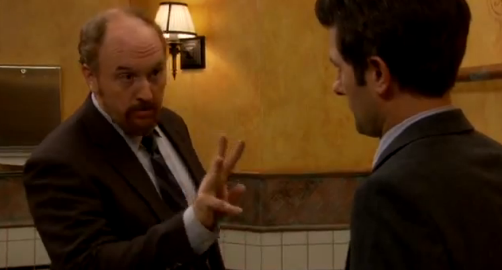 Yesterday was a glorious day for Parks and Recreation fans, as the DVD for season four was released. Finally, we can bask in the glory of a brilliant Paul Rudd story arc, Leslie Knope's bid for political greatness, and more. Often what's even more fun than re-watching the season we loved, is checking out the bevy of behind-the-scenes goodies that often accompany–especially if bloopers are involved. And as you would expect, the bloopers from the NBC comedic darling are quite extraordinary. There's talking dogs who purport sexual relations with Ann Perkins, a loose-mustached Ron Swanson (it even includes bona fide laughter from the man himself!), and a lot of discussion of Andy Dwyer's bowel movements.
And if that isn't appetizing enough for you (how could it not be?), there's even a Louis CK cameo that's only bested by some bust-ups featuring Tom Haverford and Ben Wyatt, who shine as the goofy odd-couple of our awkward dreams. Check out the clip below that was shared on EW today and drink in all that Pawnee has to offer. It's real Sweetums.
[Photo Credit: NBC]
Follow Alicia on Twitter @alicialutes
More:
'New Girl' Star Max Greenfield Joins Amy Poehler, Paul Rudd Comedy 'They Came Together'
'Parks and Rec': Leslie Knope Meets John McCain — For Real! He'll Be on the Show!
Emmys 2012: 'Parks & Rec', 'Girls', 'Louie' and 'Community' Are More Than Comedies