'Parks and Recreation' Says Goodbye: How To Write Off Ann and Chris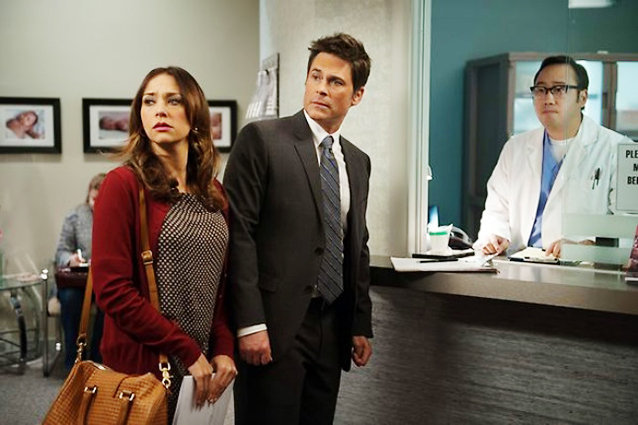 When Parks and Recreation returns for the show's sixth season, the cast will be a little bit smaller. It's been confirmed both Rashida Jones and Rob Lowe will be leaving the show after its 13th episode. Jones has been with the show since the beginning playing Ann Perkins, Leslie's beautiful tropical fish of a best friend. Meanwhile Lowe came onboard the show at the end of season 2 playing Chris Traeger as literally the biggest health nut in the world.
Last season, the on-again-off-again couple decided it was time to try for parenthood. However besides the baby storyline, both Chris and Ann have been sort of swimming in circles for some time. As sad as it will be for Leslie to lose her bestie, the choice to write the two characters off isn't entirely shocking.
Still, who knows how the Parks creative team will choose to send Chris and Ann out of Pawnee. So in case they were stumped, here are some suggestions:
A Wedding!
Who doesn't love a wedding? Since we've already seen the marriage of Ben and Leslie last season, maybe it's finally time for Chris and Ann to tie the knot before heading off into the sunset together.
A New Job Offer
Perhaps Chris or Ann get a great job offer in some far-flung locale. It would explain why they would leave Pawnee, the greatest city in America. After all who would want to voluntarily leave a town with the slogan, "First in Friendship, Fourth in Obesity?"
And Baby Makes Three
The most obvious way to write the pair off is with Ann's successful pregnancy. The pair are already planning for parenthood, and a plus sign on a pregnancy test would be a happy way to say goodbye.
A Very Long Vacation
Maybe the two decide before they get pregnant they should spend more time together? A long vacation to some tropical destination would effectively write them off the show while presenting an opportunity to bring them back at some later date.
Kidnapped By Eagleton
Neighboring town Eagleton is known for being evil (and very, very clean) so perhaps they decide to kidnap Chris and Ann. After all, Eagleton is always looking for more beautiful people to outshine Pawnee.
Witness Protection
Hey, how do you know there's no shady underground to Pawnee? Perhaps Chris or Ann see something they shouldn't and need to go into hiding so the Pawnee mob (most likely associated with candy manufacturer Sweetums) can't put a hit on them. It's far-fetched, but it means when Ann and Chris stop by for visits in the future they can wear funky wigs! Who doesn't like wigs?
More:
'Game of Thrones' Adds Sigur Ros
'American Psycho' Series in Development at FX
New 'American Horror Story: Coven' Promo Arrives
---
From Our Partners


Stars Pose Naked for 'Allure' (Celebuzz)


20 Grisliest TV Deaths of 2012-2013 (Vulture)