'Parks and Recreation' Recap: A Very Leslie Knope Love Triangle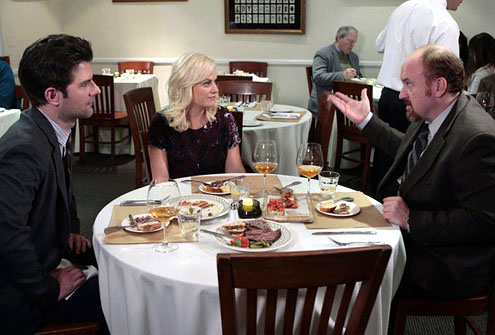 S4E15: Does this week's Parks and Recreation feature most awaited return of a guest character in television history? Plausibly. In fact, the anticipation for what we all knew was an inevitable reappearance of Leslie's ex-boyfriend Dave Sanderson (played by modern day Socrates Louis C.K.) was self-sabotagingly high. What takes place in "Dave Returns" is the story many of us have been hoping for: the most socially inept and bizarre showdown possible between Leslie's ex-boyfriend Dave and her current boyfriend Ben—neither of whom is at all socially or emotionally capable of mature confrontation. But the series knew how much this episode would mean to us, and therein lies its undoing: it tries too hard. Way, way too hard.
From the get-go, Dave Sanderson is operating at the highest levels of anxiety that we've seen from his character. If you don't remember, or aren't familiar, Dave's persona is that of a stammering, sweet-natured worrier. His bizarre means of conveying ideas verbally made him a fan favorite in Season 2—but unlike Jean Ralphio, he didn't come out of the woodworks full-blast. A character like Dave is best when he's played at moderate levels. His shtick seems like foolish writing when overdone, which it is in his first talking head. Granted, Dave's material does improve after this point, but the sentiment of playing the character up seems to resonate.
"She doesn't feel the same way. She has a boyfriend: me. And we love each other." – Ben
"That information is not pertinent." – Dave
And Ben is not innocent of this crime either. We know that Ben is comically afraid of cops (and not too great with people in general), so we should expect some more embarrassing dialogue when he and Leslie pay a visit to Police Chief Trumble to ask for an endorsement of Leslie's campaign. When Ben first met the policemen last season, he fell victim to his own anxieties in a very memorable way, spouting a ton of nonsense that earned confusion and distaste from the chief. But the humor came from the fact that none of it was particularly hard to imagine. Yes, not too many people would be likely to fall victim to this degree of social ineptitude, but there was enough moderation in the routine to keep it at a healthy level of hilarity. This time around, Ben seems more like an idiotic cartoon character, saying things that I don't believe Ben (or anyone) would ever say, even under the most stressful circumstances.
These instances of Dave and Ben being played up too much are the only flaw I have with the episode. The plot carries on like it should: Leslie sympathetically invites a lonely Dave, in town interviewing for the retiring Chief Trumble's job, to dinner with her and Ben. Trying to improve his relationship with policemen in general, Ben ups the ante on trying to get alone with Dave—who is quite dismissive of his efforts, in a particularly funny way (like I said, after the first couple of scenes, Dave's comedy improves significantly). Eventually, Dave admits that he's still in love with Leslie, which leads to a great deal of ineffective conflict resolution. We see a harried process of distributing one-on-one conversations among the three parties, we see Dave actively rejecting the idea that Leslie no longer has feelings for him, we see Ben handcuffed to a urinal. All pretty good stuff. And I could find fault with an ending that wraps up "too nicely," but there's really no other appropriate way to end this story: Dave accepts that Leslie is in love with Ben, and decides he just wants her to be happy, and the two agree to stay friends. It's sweet. And it's sweeter when Dave and Ben—on as good a term as they'll ever be—trade offers to let one another have the next spot in line for the bathroom as Trumble's retirement party. The exchange is probably my favorite part of the episode—I do hope we'll see more of Dave in the future, although I'm unsure what his character would really be able to contribute beyond this point.
"Catch your dream. Don't let it spread its wings and fly away…" – Mouserat and the Parks Department
The rest of the Parks crew finds themselves in a recording studio, under the leadership of one Andy Dwyer. Andy is in charge of writing Leslie's campaign song, and in a very endearing turn, he is taking the matter very seriously. Not because he dreams of being a rock star, but because he knows how little he has contributed to Leslie's campaign so far, and that he really wants to do something for the woman who has given him so much. A slightly more self-aware, more sincere Andy is something for which I am very grateful to see this week. The character is kind of cursed by how funny he is—it keeps us from seeing a lot of serious or emotional storylines about him, at least since the end of the whole Ann-and-Andy debacle. But this week, while not excessively emotional in any way, does show a little more gravity to Andy that works wonders.
Andy can't take it when the song falls short of perfect. He has enlisted everyone at the Parks Dept. to sing backup to Mouserat. On the subject of Andy, the rift between April and Andy that was alluded to on the last episode seems to be a nonissue this week. I don't know if those of us who identified this problem between the married couple were making too much out of a couple of funny comments—I still believe that we are meant to expect something—but the duo is back to its odd but affectionate routine this week.
"I dig your groovy tunes, man." – April 
April is employed by Ron to keep everyone in the dark about his double-life as Duke Silver. The studio where the group is recording is the same one where Ron makes his Duke albums, so a ton of merchandise with his face on it is scattered throughout the building. Ron does come to the rescue when he sees how down Andy is, injecting the campaign song with his own saxophone talents to bring the song up to levels of perfection. Oh, Ron…how sweet it is that you secretly love everybody.
Finally, Tom and Ann. Tom spends the entire episode clinging to Ann, who rejects his every request for a second date. Tom tries everything: fawning, singing, standing out in the rain. Eventually, Tom wears Ann down (he's a big proponent of this technique) and she agrees to another date.
So what does everyone else thing of Annverford? What about the return of Dave? Do you dig Duke Silver's tunes? Let us know in the comments section, or on Twitter (@MichaelArbeiter).