'Parks and Recreation' Recap: Fancy Party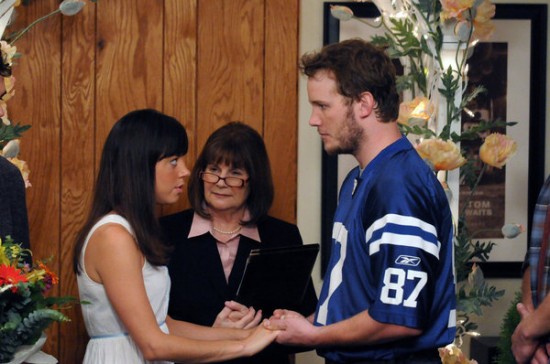 S3E9: One of my favorite aspects of Parks and Recreation is how, no matter what, the show presents its characters as genuine. Every word they speak, every action they take, every relationship that develops all just feels real because the show is so spot on with its characters and their relationships, they would never do anything surprising. For example, when Andy describes being in love as "awesome-sauce," it doesn't feel cheap; but instead, it feels perfect because it's exactly what we've come to expect from that specific character. So in "Fancy Party," even though an impromptu wedding would probably feel strange in any other show, in Parks and Recreation, because of how they've presented the characters, it works — and it works really, really well.
"It's like an Xbox-pancake." -Andy
"Fancy Party" kicked off with a terrific cold open. Ron has some tooth pain and so, in the middle of a department meeting, he pulls the tooth out with a pliers (because of no other reason than that he's Ron Fucking Swanson), causing Tom to faint like a little girl. We also learn that April and Andy are planning a dinner party (which later turns out to be a surprise wedding, so, um surprise!), which is something that combines their two favorite things: dinners and parties. They invite everyone in the office and request that each person brings something (Ben must bring a 3D television).
"I actually wasn't a fan of Peter Jackson's adaptation so you can go ahead and put that one away." -Ben
Meanwhile, Ben has a choice to make: he can either leave Pawnee and continue working for the state government or he can stay in Pawnee to work for Chris. He tells Leslie, and unsurprisingly, there's some awkward, eye-shifting discussion about what he should do that eventually just ends in the agreement that he should make a pros and cons list. I'm a fan of how Parks and Recreation is subtly handling the budding relationship between Leslie and Ben. Clearly they like one another, but they're both so career-oriented that neither of them want their personal lives to affect the professional side. In "Fancy Party," the show smartly used the April-Andy wedding as a vehicle for Leslie to explore her feelings with Ben. Don't get me wrong, I think Leslie felt like she was genuinely looking out for April and Andy, but at the same time she had the chance to deal with her own insecurities. "Make a pros and cons list," she suggests. The fact is, though, that no matter how much she prodded and pushed Andy and April to not go through with the wedding, she couldn't do anything because their feelings felt so sure for both of them. It was a nice learning experience for Leslie and a way for her deal with the insecurity she (I think) feels with Ben.
"I was just 'ribbing' you, ha ha ha." -Ann
And speaking of insecurities, how about that Ann? Oh Ann, you crazy girl you. I never thought we'd see this side, and the crazier and crazier you get, the more I enjoy it. In "Fancy Party," Ann went to a party of her own: a singles bar. And, wow. How could someone as good-looking as Rashida Jones be so, so terrible at flirting? Watching her chat with dudes was painful, and she's clearly still reeling from the break-up with Chris. Perhaps it's the cynic inside of me who's still bitter at all those girls who broke my heart once upon a time, but I really like it when comedies play around with the "dumped-female" character type — especially when it's someone as beautiful as Ann Perkins. I hope that Parks and Recreation continues, as it has, to flesh out the crazy in Ann. Maybe next week, that red streak in her hair will be lime-green?
"I guess I kind of hate most things, but I never really seem to hate you, so I want to spend the rest of my life with you. Is that cool?" -April
The wedding between April and Andy was, well, actually kind of perfect. I'm not the biggest fan of show's that typically don't use music using music for dramatic effect, but something about Simon & Garfunkel's "April Come She Will" softly fluttering over the scene just worked. Andy and April have the relationship that we all want: innocent, sweet, genuine and, most importantly, loving. There isn't a doubt that they care for one another — more than anything else in their lives — and as we've gotten to know their characters over Parks' run, it's become easy to melt at their interaction. The words "I never really seem to hate you" are just as moving (if not more) as lines like "we'll always have Paris." Plus, it was fun to see Tom run around, trying to figure out how to be a best-man. (Also, Jean-Ralphio, what up!).
Parks and Recreation is a very sweet show, and "Fancy Party" displayed that at its finest. These people — residents of small-town Indiana — live their lives in an inspiring way. Perhaps life in Pawnee isn't as thrilling as New York City or Los Angeles, but who cares? April and Andy may be two dimwitted morons, but once again, who cares? The town makes people happy. These two idiots make each other happy. And that's it. There's no cynicism. No hatred. No impatience. Pawnee and its residents give us hope that we can live our lives as we want and just enjoy ourselves — even if it means wearing a stupid, ugly ass shirt like Jerry.