'Parks and Recreation' Recap: It's Pronounced 'Anchovies'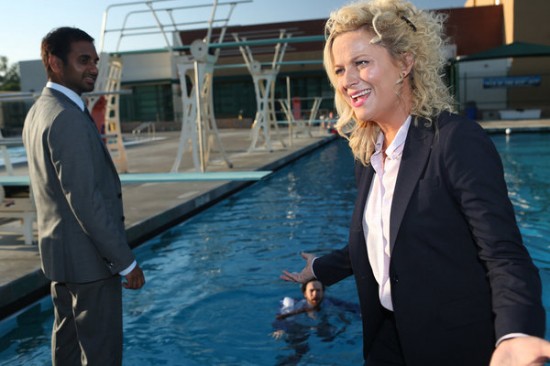 By the third episode of Parks and Recreation's fifth season, Leslie Knope (Amy Poehler) has settled into her new office as a City Councilwoman. She has her Wall of Inspirational Women (complete with a self portrait), a big comfy chair, a working Skype connection to Ben (Adam Scott) in DC, and her own private bathroom. Scratch that, looks like the bathroom's not so private. It is on the toilet in said not-so-private bathroom that we first meet City Councilman Jam (Jon Glaser), and thereby establish Leslie's new nemesis. I think we may hate him more than we hate the library.
A City Counselor with Porpoise
As Leslie seeks to pass the Leslie Knope Fun in the Sun Act, which will allow the city's pools to stay open for longer and thus give the Porpoise ("Eeeeeiiieeeee!") swim team more time to practice, she will be forced to make some tough decisions. How much is a vote worth? How much is she willing to sacrifice for a noble cause? Was Ann right about how Leslie would look with a perm?
Elsewhere in City Hall, we find Chris Traeger (Rob Lowe) proclaiming the virtues of psychotherapy, in which he has enlisted on Tom's (Aziz Ansari) advisement. In his quest to conquer the Mount Everest of his mind, Chris finds himself happy, supported (both of which he exclaims for us in the third person) and eager to establish a kind of psychotherapy for Pawnee — in the form of a 311 line. The residents will all call a single number, and be directed to the correct person. I have a sneaking suspicion that this will not work according to — or anywhere close to — plan. 
We'll Jam Out to Some Sweet Tuneage
The DC contingent is feeling lonely. They miss Leslie, Andy, offensive Native American murals, and sloppy water fountain drinkers. It's time, they declare, to take a road trip to Pawnee! That is, if Ben can survive ten hours in the car with April (Audrey Plaza). "She's like the little sister I never had," Ben says, "Because the little sister I do have is normal and not terrifying." So April grabs some snacks, Ben grabs some music and his Star Trek: The Next Generation fan fiction, and the two hit the open road. Strike that, the heavily-trafficked road.
Ron and Diane, Sittin' in a Tree … K-I-S-S-I-S-S-I-P-P-I-Is that a Bird?
The 311 hotline, meanwhile, is struggling. It's impossible to be routed to the right department, Jerry somehow finds himself on the end of a 911 call, and none of the appropriate authority figures are available to speak to the concerned citizens. Basically, it's a metaphor for small town government. Frustrated that one woman isn't able to connect with the right person to fix a pot hole in front of her house — it's not a pit, but I'll take it — Ron grabs Andy, his Food 'N Stuff workers gloves, and a bag of asphalt and heads to fix the offending hole himself. (No, Chris, that's not an innuendo).
Sparks fly as Ron gazes into Diane's (Lucy Lawless) eyes. She shops at Food 'N Stuff, she wants to learn how to fix the pothole so next time she can do it herself, and she speaks in a no-nonsense monotone that exudes authority, confidence, and a slight sensuality. If there were ever to be a woman in which Ron Swanson would meet his match, it would be Xena: Warrior Princess.
But Diane is a single mom and, as Ron puts it, her life is "messy." Or maybe Ron is just a coward. Either way, he may let her daughters put make-up on his face and stickers in his mustache, but he will not pursue her. That is, not without a little help from Andy. Andy Dwyer: Matchmaker, works his magic and Ron agrees to go out with Diane. The stage is set for hilarity with these two in upcoming episodes.
You Can Really Taste the Ignorance
Leslie is desperate to make her Fun in the Sun bill a law, and if City Councildouche Jam won't help her — which he won't by the way, unless she agrees to give him her office — she's going to find someone who can. Enter, Councilman Milton, who entered the City Council in 1948 as a member of the Dixiecrat party, a group whose platform was to deintegrate baseball. That Jackie Robinson, what a life ruiner! Unfortunately, after a Caesar salad-fueled lunch, Leslie is no closer to getting what she wants from Milton.
This means, Leslie must make a game-time decision in the City Council meeting. Does she hope Milton, a racist man with faulty hearing, pulls through? Or does she make a deal with the Devil and trade in her office, private bathroom, parking space, and slightly-crooked teeth for Jam's vote? Leslie goes the latter route, and in doing so passes the Fun in the Sun Act for the Porpoises ("Eeeeeieeeee!"). Because happy Porpoises make for a happy Pawnee. But, we must ask, at what cost? This seems like a slippery slope for Leslie. Do not compromise! Maintain your integrity! Don't let Tom smoke in your office!
Oh yeah, and Ben and April ran out of gas before they got on the highway and never made it to Pawnee.
Best line of the night: Data had never felt this way before. Of course, Data had never felt anything before.
Follow Abbey Stone on Twitter @abbeystone
[Photo Credit: NBC]
More:
'Parks and Recreation' Recap: Mount Everest of the Mind
'Parks and Recreation' Recap: Twinkle Twinkle Big Star
'Parks and Recreation': What You Need to Know Before Returning to Pawnee