'Parks and Recreation' Recap: Ron Swanson Wrote This Episode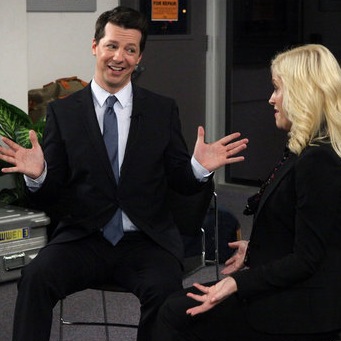 S4E18: Tonight's Parks and Recreation episode "Lucky" has a number of treats for fans, the most obvious being a guest starring role for always-funny Sean Hayes. But under the surface is a script by castmember Nick Offerman aka Ron Swanson. Can he deliver sharp wordsmithing on par with the rest of the writing staff?
The answer is yes, but in the fashion of the entire latter half of the season, "Lucky" still lacks the unique character-driven drama early Parks defined itself with. If you're in the show for only laughs, tonight hits plenty of great notes, but if you love Parks because of something grander, "Lucky" may still underwhelm.
"We're so drunky! I mean lucky." – Leslie
Buddy Wood is the most important TV interviewer in Indianapolis, so when Leslie gets the offer to appear on his show, the Parks Department team goes full court press to make it perfect. But misfortune strikes, pulling Buddy away from Pawnee to cover a crisis at home. This leaves Leslie with perfect hair and a surge of pre-interview adrenaline—the perfect drinking situation. Ben tries to convince Leslie to call it an early night, but to no avail. She wrangles Tom and Ann for a round of drinks, which quickly implodes into a night of tequia shots, beer and debauchery. Or it would have, if Buddy Wood didn't call last minute to reschedule the interview.
Tonight's Parks and Recreation has significantly less plot threads than a normal episode—and it's a godsend. Less frantic behavior, more character, a laid back exercise in comedy. Drunk jokes get old fast, but I'm always happy to see the Parks crew a little tipsy, as they're the weirdest drunks ever to grace television. This isn't the sharpest Parks episode of all time, but it's comfortable pacing was a nice of change.
"We found a patch of carpet without a horrifying smellscape." – Buddy Wood
Leslie meets Buddy Wood (Sean Hayes) at the Pawnee airport, a rundown shell of its former self that Wood insists Leslie should be embarrassed over. For Wood, the decrepit airport is a metaphor for Pawnee—and he barely gives Leslie a chance to defend herself. It probably doesn't help that Leslie's beyond wasted, barely stringing together sentences, or even sitting up straight. The interview is a disaster, and when Wood realizes that his subject is beyond drunk, he seizes the moment. He calls out Leslie on her relationship with Ben, then goes for the jugular by accusing outright of being inebriated. The interview falls apart, Wood having exactly the footage he needs and Leslie and crew without a hope. For all intents and purposes, the Knope 2012 campaign is dead.
You'd think Leslie would be a wee bit more responsible in situations of such gravity, whether she thinks they're going to happen or not, but obviously Ben's serious commitment to her cause is straining her relationship. This big screw up doesn't help either. If Parks is ready to stretch the couple to their limits, it might be interesting, but I doubt it. This squandered opportunity may be another one of those Parks-isms that doesn't really fit the character, but is played for laughs. Thankfully, it is quite funny.
"I did not want you to think I was objectifying you with my male gaze." – Chris
Way back in episode eight, "Smallest Park," Andy enrolled in a Women's Studies course. Finally, we get to see the rewards of his studies.
Andy "graduates" from his class with a P ("I was hoping for a P+, but that does not exist.") and asks his teacher, Ron and April to all celebrate with him. They go out for steaks, and in the restaurant run into the mopey shell of a human being, Chris (is the airport a metaphor for him too?). The quintet wine and dine, April knowing well and good she's once again played matchmaker, this time to Chris and Andy's health-oriented professor. But in the end, it's Ron who gets the gal, throwing a wrench into April's well-orchestrated plan.
Poor Chris. As I've explained, I'm no fan of Ann and Tom, and I kind of wish the show would reunite Chris with his former flame just so he's back to his chipper self again. But life ain't easy, so the show isn't either, and once again Chris has the carpet pulled from under his feet. This season, Ron has shown a tremendous amount of compassion for his fellow co-workers, and he caps off this B-plot by being upfront with Chris about his sexual relations. Has Ron found a new lady? She's not a Tammy.
"That's so sweet, I've never had a boyfriend threaten to commit arson for me." – Leslie
Running out of time and options, Leslie, Ben, Tom and Ann all pile into Tom's stretch jacuzzi limo (another callback, from episode five "Meet and Greet") and head to Indianapolis. If they can get the tape of the interview from Woods, maybe they can save the campaign. Driving through the night, the team lands at Woods' doorstep, only to discover that the Pawnee airport lost his luggage, the tape never to be found. Turns out (as we learn in flashback), Leslie's defense of the airport staff earned her a favor—one of the employees dumped the camera bag. The day is saved, and Leslie thanks her lucky stars…for luck.
Everything is peachy again on Parks, but the scenario is confusing. There's no danger in Leslie's campaign, the moments we see are so sporadic, we can't tell if she's doing well, doing poorly or if there are any stakes at all. As an audience, we're told that there's a lot on the line, but I don't feel it. Rarely will I knock Parks for failing to deliver on laughs (only two weeks ago), but I do feel the second half of the season lacking in heart, in passion and in something that hooks me. Maybe when the show returns in April, we'll see a little zest in the homstretch to election day.
Is Parks and Recreation keeping your attention? Are you still voting Knope in 2012?
="font-style:>