'Parks and Recreation' Recap: Ron & Tammys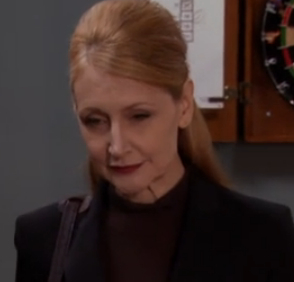 S4E2: Sure, David challenging Goliath was a battle that went down in history—but was it truly epic?
After tonight's episode of Parks and Recreation, I'd have to go with no. Not when compared to the ultimate showdown between Ron Swanson and the many Tammys in his life. While fans are familiar with Ron's bloodthirsty second ex-wife Tammy 2, she doesn't hold a candle to his first ex-wife Tammy, a icy devil who reentered Ron's life at the tail end of last episode. There may only be one other force in the world strong enough to ward off Tammy 1's evil: Tammy 0, Ron's Mom.
"Operation Rescue Ron is starting! Don't worry I'll think of a better name for it tomorrow." – Leslie
Tammy first twists the knife into Ron's side with an IRS audit—which Leslie quickly realizes is the deadliest tactical move against the otherwise secure gentlemen. Ron's philosophy regarding personal finances whittles down to "income tax is illegal" and investing in gold, which he buries in different locations all over Pawnee. Sifting through his receipts ("this one just says 'I bought supplies, 2007′"), it's apparent the Tammy situation is escalating into dangerous territory.
Tammy slithers into the office ready to prey on her ex, but Leslie, knowing she needs Ron for an important government throwdown, does everything in her power to ward off the seductive beast. But it's too late; the audit is only the beginning, and when Ron arrives at the office the next day, he's been horrifically transformed by Tammy. Colorful polo t-shirt, shaved mustached and enthusiastic demeanor. He's Yuppie Ron, ready to "get back to the ol' grindstone." In some ways, Tammy 1 has changed Leslie too: she's a deer in headlights.
Further investigation reveals Tammy's so called audit was all a trick to reel Ron back into her clutches (and confirm that he has gold in the ground). Leslie, knowing she can't fight the battle alone, turns to the only person who can take on Tammy 1. Leslie pleads for Tammy 2's help, but even she knows fighting Tammy 1 is impossible. In fact, Tammy 1 through acid on her toes when she found out Tammy 2 got together with Ron. But Tammy 2 assures Leslie there's hope, in the form of Ron's mother…Tammy.
"Ben is that your real name? I'm going to help you—your new name is Angelo!" – Jean-Ralphio
Speaking of finances, someone finally realized that Tom and Jean-Ralphio's Entertainment 720—with its hired NBA stars, free champagne and "party switch"—may not be the most secure business on the planet. Tom consults Ben to look over the company's books and in the process, Ben discovers the media conglomerate's future is grim. In that they make no money. I guess giving away free iPads isn't the wisest decision.
Ben, mystified by Entertainment 720's not-quite receptionist raking in 100K a year, finally bursts. But when he breaks the news to Tom, the scrawny party animal shrugs him off. He shows Ben the door, but reminds him to grab a free iPad on the way out.
I never thought Entertainment 720 was going to last long in the world of Parks and Rec, but thankfully there's a glimmer of hope for the place where there's always a TV monitor displaying yacht footage. After consulting with five financial analysts (yes, five), Tom has an epiphany: Ben was right. He puts his head down and asks for forgiveness—and throws in an iPad for good measure. You know he meant it to, explaining that this particular iPad was bought on the way over. In a silly way, that's the real Tom coming out. Friends!
"Diabetes! Fight It!" – Chris
While the zippy premiere had three strong stories running simultaneously, a few characters get lost in this follow-up. Chris, the MVP of "I am Leslie Knope," is thrown on the backburner with Ann in a strange side story that comes with enough laughs to make it work.
Anne discovers an out-of-date diabetes video featuring the old health department head—who, evidently, left for diabetic reasons. Not content on letting Pawnee's declining wellness trump her, Anne asks the physically fit Chris to help her record a new video. Obviously, he's excited beyond belief.
What should have taken a half hour becomes an all day affair, with Chris being a real stickler for the perfect take. He's the David Fincher of in-house health videos. The whole ordeal makes Anne wonder why she ever fell for Chris in the first place—until they eventually wrap, and Chris tells her she's an amazing human being. Seeing as Anne's needed a decent role on the show since day one, here's hoping she gets back together with Rob Lowe's fast-talking do-gooder.
"Swanson family mash liquor. It's only legal use is to strip varnish off of speed boats." – Ron
The episode culminates in the final battle royale: Ron's Pigpen-esque mother Tammy 0, Patricia Clarkson's sneering Tammy 1, Leslie and a jug of colorless alcohol that could melt the shell of a snail. Winner take Ron. While Leslie doesn't stay in the game for too long and her substitute April (self-proclaimed Puerto Rican heritage and all) doesn't make it one sip, Ron puts an end to the craze by downing the entire container. No surprise, it doesn't faze him. It might not be the most spectacular ending, but Ron does finish things his way and come back to normal, putting all his Tammys behind him and coming back to real life. Balance has been returned to the town of Pawnee (as long as Leslie recovers from the mash liquor next episode.
While I really enjoyed the premiere, "Ron & Tammys" may be one of the laugh out loud funniest episode in Parks and Recreation history. Ron-focused episodes allow the show to hit its most deranged notes and with the addition of Clarkson and Paula Pell as Ron's mother, all the stops were pulled.
Let's just hope this isn't the last time we see the likes of Tammy 1!