'Parks and Recreation' Recap: Rules and Regulations for Choosing a Sperm Donor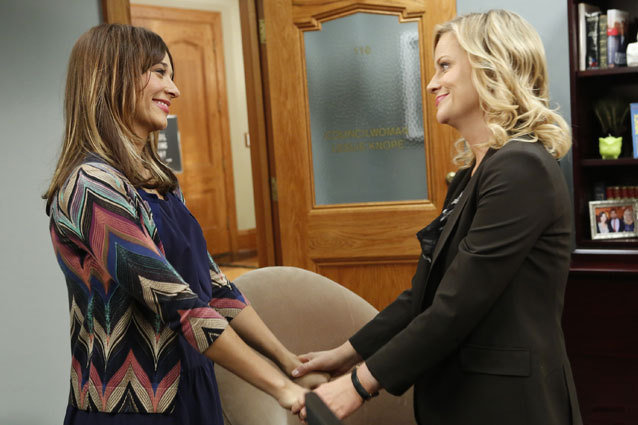 Welcome to Pawnee, Indiana. We are located 90 miles from Indianapolis and we are the state's seventh-largest city. We are a city of kind citizens, green places, and a deep love and respect for the land. For the care and protection of these public outdoor spaces, we turn to the Parks and Recreation Department, headed by the honorable Ronald Ulysses Swanson. In order to ensure that the parks, pools, and public spaces of Pawnee remain in their tip top condition and able to provide good, clean fun for the citizens of Pawnee and their guests, the Parks and Recreation Department asks you to follow the following pertinent rules and regulations. Please and thank you, rest in peace L'il Sebastian.
So, you want to have a baby! Congratulations! Before you continue in your endeavor, please take a moment to acquaint yourself with the following:
10 Rules and Regulations for Choosing a Sperm Donor
1. Maybe you're frustrated in love. Maybe Mr. Right has become Mr. Elusive and dating has become a losing game. Maybe… you're seeking alternatives — like, an alternative family. Who needs a man when you are the best date you've ever had? Dating yourself has been the biggest thrill of your life; it's made you try catfish and pick up new hobbies. Heck, you've even gone skydiving (and you have the blog to prove it)! Sounds like you've made the decision to become a mom without first finding a partner. If this is the case, please see Rule No. 2.
RELATED: 'Parks and Recreation' Recap: Rules and Regulations for Achieving Gender Equality
2. Head to the sperm bank. This is where you will decide on your sperm donor. We recommend you bring a friend for moral support. At the sperm bank, you'll be asked to state your preferences for your sperm donor. Yes, we know you want sperm. Can you be more specific? Oh, you don't have any other known requirements? Well, in that case, take a look at these binders, talk it over with your jumpy blonde friend, and come back when you're more prepared.
3. Picking a sperm donor is kind of like choosing a caterer for a wedding reception. You'll want to weigh your decisions carefully and enlist the opinions of friends with varying tastes. Both the herbivore and the carnivore can provid unique insight into your process! But, ultimately, you've got to go with your gut. If the mini calzones — I mean, a savory pastry delicate dough pocket filled with tomato sauce, cheese, and seasoned meat— really speaks to you, then say yes to the pastry!



4. Be sure to document your sperm donor selection process. Much like a hipster chronicling a roast that was more of a coy Dutch woman guarding a secret than a hunk of meat, you (and your hypothetical child) will want to savor these memories forever. So take out that iPhone and get Instagramming! If you need assistance with the app, please contact Tom Haverford, resident foodie.

RELATED: 'Parks and Recreation' Recap: Rules and Regulations for Throwing a Bachelor Party

5. Umm… Going back to No. 3, maybe it's best to stay away from the mini calzones of sperm donors. The mini calzones may be new and fun, and Lord knows they are tasty in the moment, but these attractive morsels will only leave you hurting in the long run. It may be best to seek a donation from someone you know will not send you into toilet bowl-breaking bouts of regret in the following days.

6. Instead, go with the JJ's Diner of donors. Someone who knows your name, your preferences, and sends you home with free waffles. (Hey, Pawnee residents, JJ's now does event catering!)

7. So, you've decided to go with someone you know. But whom? Choose wisely and, in your process, steer clear of Douches (yes, with a capital D). Sometimes, graduates of Northwestern who studied semiotics and the narrative form in the digital age who seem perfect on paper will ultimate make your friend quote Bill Cosby while standing knee-deep in a kiddie pool of Jell-O on local radio. And really, who needs that?

8. And hey, having a baby can be scary! Kind of like hosting your very first public forum on Pawnee Commons. So, as with the latter, fake it 'til you make it. If you're scared, pretend to be someone you look up to. Try walking in the Fleetwood Mac sex pants (the garment, not the band) of your predecessor for inspiration.

RELATED: 'Parks and Recreation' Recap: Emotional Guardian

9. And when that doesn't work — because we all know it won't — just be yourself. Go ahead and call the man who recommends creating a topless park a creep, risking 30 citations for excessive rudeness. You are April Ludgate and you get s**t done! I mean, after all, who is having this baby but you and yourself?

10. Finally, take your time in choosing. Go through things systematically with color-coded binders, anatomy cartoons, and your best we're-not-lesbians-we-swear friend. "Let's do this!" Because, ultimately, what's more cuterus than your uterus?

Follow Abbey Stone on Twitter @abbeystone

[Photo Credit: Jordin Althaus/NBC]
---
From Our Partners:

Young Han Solo Movie: Dave Franco to Star? (Moviefone)