'Parks and Recreation' Recap: Rules and Regulations for Responding to an Emergency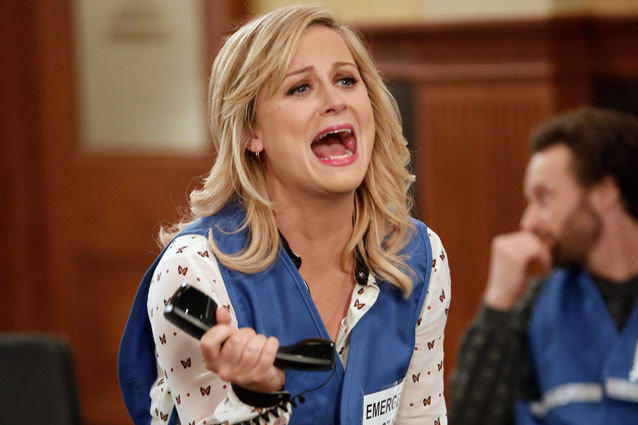 Welcome to Pawnee, Indiana. We are located 90 miles from Indianapolis and we are the state's seventh-largest city. We are a city of kind citizens, green places, and a deep love and respect for the land. For the care and protection of these public outdoor spaces, we turn to the Parks and Recreation Department, headed by the honorable Ronald Ulysses Swanson. In order to ensure that the parks, pools, and public spaces of Pawnee remain in their tip top condition and able to provide good, clean fun for the citizens of Pawnee and their guests, the Parks and Recreation Department asks you to follow the following pertinent rules and regulations. Please and thank you, rest in peace L'il Sebastian.
WooooEEEEWooooEEEE! Hear that? That's an alarm! A state of emergency has been declared in Pawnee, and it is now up to our municipal employees — with Councilwoman Leslie Knope leading the charge as our Emergency Czar — to get our fair citizens out of harm's way. There may be casualties, but if we all stick together (and follow the rules and regulatios, as outlined below) Pawnee will rise again! (Just to clarify, in case there's some confusion, this is only a drill. Where's Jerry going? Will someone please tell Jerry?) 
10 Rules and Regulations for Responding to an Emergency
1. Classify the emergency. Before we can tackle the situation head-on, we must first classify its degree of severity. It looks like, despite all your hard work and chutzpah, Councilman Jam is going to get to build his Paunch Burger on your empty lot after all? That's pretty bad. All hands on deck! Can you pass a fry?
RELATED: 'Parks and Recreation' Recap: Rules and Regulations for Choosing a Sperm Donor
2. Devise a plan. We can only beat this thing if we are organized, systematic, and calm. So, let's think. What must we do to jam Jam's plan? Let's examine the facts: We need to raise $50,000 to fill the gaping hole in our budget that is currently pushing the powers that be into Paunch Burger's greasy, lard-covered arms; and we need to do it in one day. Eureka! Let's throw a black tie fundraising gala! 
3. Unfortunately, hot on the tails of one emergency we often find another. Just when you thought you could dive in to fixing your problem, you're thrown a curveball. In this case, it just so happens that the Department of Emergency Preparedness has scheduled your state-mandated emergency response evaluation for the same day you are faced with responding to a real-life emergency of your own. Ironic, no? To respond efficiently and appropriately, one must improvise. 
4. Reevaluate, make a new plan. Lucily for you, you have the Mission Im-Pawnee-able Knope Protocal guide to hold your hand every step of the way. You know what we say to the avian flu in Pawnee? Boo hoo, avian flu! You don't scare us. 
RELATED: 'Parks and Recreation' Recap: Rules and Regulations for Achieving Gender Equality
5. But now that you are stuck buried beneath a mountain of red tape, you must delegate your tasks for resolving Emergency No. 1 to those close to you. Ben Wyatt knows his way around a clipboard, he can be your point man. Self-professed foodie Tom Haverford can surely find a caterer, Donna Meagle can be put on chair duty, and leave it to Ron Swanson to spread the word.
6. Enlist help through the media. Ron Swanson can speak in full sentences and won't cry on TV — get him a spot on Joan Calamezzo's talk show. He can talk up your gala while simultaneously saving a man's life by teaching a young boy how to perform a tracheotomy. Plus, have a question about woodworking, novels about tall ships, or meat? Now's your chance to get a professional opinoin. Just remember, "Any dog under 50 lbs is a cat, and cats are pointless."
7. Plan for the future emergencies by getting a man on the inside. Andy Dwyer is just two steps away from becoming a full-fledged officer of the Pawnee Police Department — only a written test and personality evaluation stand in his way.  We know a genius like Andy don't have to worry about no multiple choice Scantron exam, but can he withstand the grueling polygraph test that has been known to ask such complex questions as, "Is your name Andy?" Trick question! Andy is a nickname. 
RELATED: 'Parks and Recreation' Recap: Rules and Regulations for Throwing a Bachelor Party
8. What do you do should you learn that this isn't your average emergency response drill? That, in fact, you have been set up for failure by your slimiest foe? You improvise… again. Your new objective is not to save the town from the avian flu but to get out of City Hall has quickly as possible. CPR those chickens, stat! Everyone dies on your watch!
9. Be sure to celebrate a job well done. Your friends will have of course come through for you and succeeded in throwing the swankiest gala Pawnee has ever seen. And, what's more, you have achieved your fundraising goal! (Of course you have, you're Leslie Knope.) The only thing missing from this perfect picture is a wedding band on your finger and a husband on your arm. Wait a minute… who said you have to wait another three months to get married? All your friends and neighbors are present, lookin' foxy, right now! What better time than the present to have a surprise wedding?! 
10. To be continued…
Follow Abbey on Twitter @AbbeyStone
[Photo Credit: NBC]