'Parks and Recreation' Season 5 Finale Recap: Are We Better Off?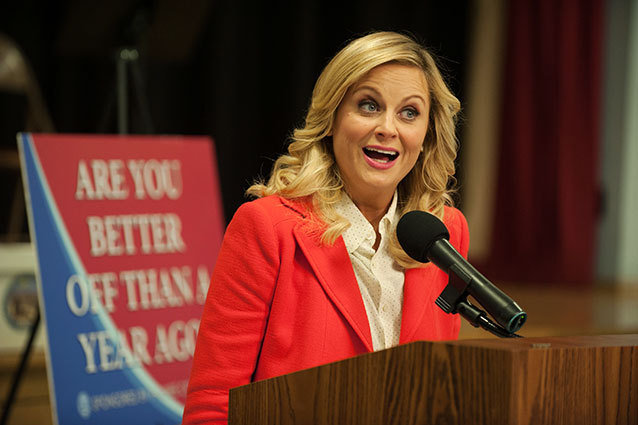 In the Season 5 finale of Parks and Recreation, appropriately titled "Are You Better Off?," we find Leslie Knope (Amy Poehler) on the first anniversary of her election to the Pawnee City Council. For her unofficial victory lap, she has gathered the town together to ask that titular question — do they believe they are better off now than they were when the year, and Leslie's reign, began? 
As is the way of these public forums, Leslie quickly loses control of the crowd. Contrary to her well-laid plan, the meeting devolves as each person Leslie confronted (except, mysteriously, Councilman Jamm) in the past year raises concerns against her. Remember when Leslie banned gigundous soft drinks in restaurants? Well, the head of the Pawnee Restaurant Association is out for blood. We also meet a rotund gentleman who resents that a Paunch Burger wasn't built on the vacant lot and crazy Marcia and Marshall Langman of abstinence only sex education have returned. It seems the only people willing to speak in favor of Leslie are Pawnee Video Dome owner Dennis Lerpiss (Jason Schwartzman) and porn star Brandi Maxxx, who want to thank the councilwoman because, as Brandi says, "If it weren't for Leslie Knope, there would be far, far less pornography in this town." And maybe that's not such a good thing. 
While it was nice to see some familiar faces return, the airing of past grievances and the flashback footage that accompanied them seemed lazy. Is this a clip show or a season finale? Instead of looking ahead to Leslie's and Pawnee's — and, inherently, the show's — future, it seems we are getting bogged down with the past. You're better than this, Parks and Rec. Or at least you were. 
Leslie's conflict comes to a head at the annual Founders' Week Parade. Chris "Nipple King" Traeger (Rob Lowe) warns Leslie of an unflattering float seconds too late, causing Leslie to come face to face — or face to inflatable knee cap, really — with a larger than life, finger-waving, glowering Leslie Knope. "Leslie Knope Says No to Fun," the banner reads, and no amount of huffing, puffing, yelling, or irate gesticulating from Leslie can convince the town otherwise. 
Then, Icky Mean Restaurant Lady (who doesn't deserve to be named… also, I forgot her name) drops her bomb. She has started the Committee to Recall Leslie Knope and she won't sleep until she sees Leslie kicked off the city council. 
At first, Leslie is heartbroken. She has failed her people and ruined their lives, she thinks. She may have lowered the obesity rate by an amount equal to 800 pregnant manatees but the people hate her for it. Luckily, Leslie married the best pep talker of all time. Ben (Adam Scott) asks Leslie to look deep within herself and answer the question, does she think Pawnee is better off? 
She does. Of course she does! Because Mary Poppins ain't got nothing on Leslie Knope — Leslie Knope is actually perfect in every way. Leslie throws a press conference for herself and tells the Committee to Recall Leslie Knope to bring it on, step up, and stomp the yard, honey (which is also a dance movie, starring Jessica Alba). If the Aesop's Fablesy sheen Parks and Rec has developed in recent seasons has taught us anything, it's that Leslie (the good guy) is going to be just fine. 
Meanwhile…
The other characters' storylines are linked together as Andy (Chris Pratt), who has resurrected FBI Agent Burt Macklin for one final case, tracks down the owner of a mysterious positive pregnancy test he found in Ron's (Nick Offerman) cabin. It must be one of the five ladies present at the Parks Dept. retreat, he deduces. Which means either Ann (Rashida Jones), Leslie, April (Aubrey Plaza), Donna (Retta), or Mona Lisa (Jenny Slate) is expecting. 
Burt/Andy begins to narrow the ladies down. After a few red herrings and much good news — Ann and Chris are happily fornicating, April got into veterinary school (!!!) — Andy has ruled out all the women present at Ron's cabin. So then, who is pregnant?
Tom, meanwhile, is faced with a difficult decision: an anonymous client (who may or may not be Jay-Z but is definitely not Diddy) has offered to buy Rent-A-Swag. Tom ultimately declines the buyout in favor of building up his business, which is obviously successful. In a twist, Tom's benefactor becomes his adversary when his lawyer announces that his client will just build a competitor, called Tommy's Closet, across the street from Rent-A-Swag. Tom best get ready to bring his A-game. 
The final moments of the episode are the most jaw-dropping. The pregnancy test belongs to, you guessed it, Ron's girlfriend Diane (Lucy Lawless). Or, at least, so we are lead to believe. As Andy is expressing his frustration with his failed investigation to Ron, Dianne walks into Ron's office and says she needs to talk to him in private. We are treated to a shot of Ron's paling face as the meaning of Diane's words set in. Is Ron, a loner who despises change, ready to become a family man?
This raises the question, will every central plotline next season have to do with babies? Ron: baby. Ann and Chris: trying to have a baby. Leslie and Ben: have talked about starting a family (which means having a baby). Going on record now as saying that's too many babies.
Follow Abbey on Twitter @AbbeyStone
More:
'Parks and Rec' Recap: 'Swing Vote'
'Parks and Rec' Recap: 'Article Two' and 'Jerry's Retirement'
'Parks and Rec' Recap: 'Animal Control'