'Parks and Recreation' Recap: Tom and Ann Need to Break-Up Immediately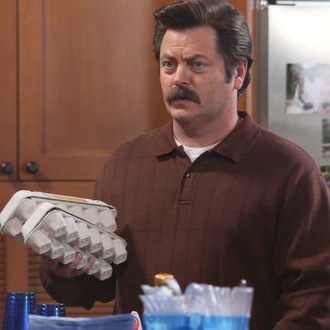 S4E16: Last week marked the return of Louis C.K., but also a step down in quality for the usually smart and quick-witted Parks and Recreation. A bit over the top, a bit messy. Is it the election that's putting the show into autopilot? And why are Tom and Ann still together? Seriously.
Tonight's episode "Sweet Sixteen" didn't do much to change my opinion, but as always, lands enough jokes to keep me invested.
"Parks inside, campaign outside!" – Leslie
Leslie is born multi-tasker, but even the most hyperactive do-gooders can't tackle everything life throws at them. Eventually, the stress of life was going to take its toll, and I'm glad that moment has finally come. Campaigning is standing in the way of Leslie's day to day and Ron, sweeter and more worried for his co-workers than ever this season, pushes her to take a sabbatical. Obviously that's not going to happen, but even Leslie begins to worry about her mental health when it's revealed she missed Jerry's birthday. Scrambling to throw together a last minute surprise party ("Jerry, what are you doing, our water has poop in it!"), Leslie organizes a trip to Donna's family lake house—and assembles the whole crew to make it happen.
I try to be as nice as possible to Parks because it's one of the only consistently funny shows on TV (a blessing) and it's a generally nice show, but I'm getting a little worn out on the "here's the team mission, let's all work together to do it!" model episode have fallen into along the campaign trail. Yes, the workload angle did need to be addressed and even the lesser episodes of Park still deliver laughs, but watching Leslie push herself pas her limits felt tired this week. The highlight was her misordered campaign signs, a long .jpg URL slapped across a Knope 2012 banner. The message of the episode speaks to my problems—I just want everything to slow down and get personal.
"Not loving R&B music is #3 on the 'Oh no no's' list." – Tom
My other major complaint about the recent arc is the Tom/Ann relationship. Does it make sense? No—and the characters acknowledge this straight up.
Arriving at the lake house, the odd couple are already bickering, but a reveal that R&B superstar Ginuine is Donna's cousin sends Tom into a frenzy ("Ginuine…is Ginuine. He's Ginuine."), which Ann shrugs off. The duo's incompatibility finally dawns on Tom, who flips as he slowly chips away at Ann's tastes: she doesn't like high thread-count sheets, she doesn't own UGGs, she doesn't care about Blu-rays…the relationship, it would seem, is slowly deteriorating.
Except it doesn't, and even with April drunkenly commanding them to break up, the couple sticks through and comes out unscathed on the other end. Why!? Why are these two together!? Finding love in unlikely places is perfectly reasonable, but Parks and Recreation's latest romance feels, dare I say, contrived.
"Champion. He's a mutt. Half amazing, half terrific." – Chris
Meanwhile, Chris continues to slip away into a fit of depression over his break-up with Millicent Gergich, finding solace in a pet-sitting Andy and April's three-legged dog Champion. After teaching Champion to speak German, Chris grows fond of the pup—which becomes clear, even to slow mind of Andy. When Chris and Andy arrive at the lake house ("What the f*ck dude, where did you come from!?!?"), Champion runs off, leaving the two to hunt through the night to find him. Luckily, the sound of Andy's singing voice (and a well-timed dog whistle) have Champion back in no time, but Chris insists to a caring Andy that it's not his animal to love, not matter how much he loves doggie kisses.
This is a sweet third plotline which would have worked better in a stronger episode. Chris and Andy usually find themselves stuck in supporting roles for other characters problems, but finally Chris has something to overcome. He shoots Ann a late-in-the-episode glance of longing, which I truly hope comes back into play (Ann and Chris > Ann and Tom by a longshot).
"Never half-ass two things. Whole-ass one thing." – Ron
When Leslie, Ron and Jerry finally arrive at the lake house, the party is a bust. Everyone's asleep and there's no celebration (Ben: "Er, surprise"). Leslie failed. The next morning, Ron sets her straight, insisting she needs to pull back on the Parks Department work. And she listens, much to her chagrin.
The real kicker for such a sour episode is the final moment, which almost redeems the whole thing. Gifting Jerry a bed and breakfast trip to make up for the makeshift party, Leslie gets a campaign phone call. She insists not to take it. Ron insists she does—so Leslie scurries off to pick up the phone, catching her fellow co-workers circled and cheerful over Jerry's birthday glee. It's a little sad, a little foreboding and uniquely Parks.
I don't know where this season is going, and with a hiatus coming up shortly (Parks is set to return at the end of April), the future of the show is truly murky. Maybe knowing how many episodes they have left with sharpen the writing, but this was a miss for my favorite show on TV.
Did I miss something? Is the frantic pace working for you? Is Parks on the edge of snapping back into gear?