'Parks and Recreation' Recap: "London" Is an Overstuffed Hug From an Old Friend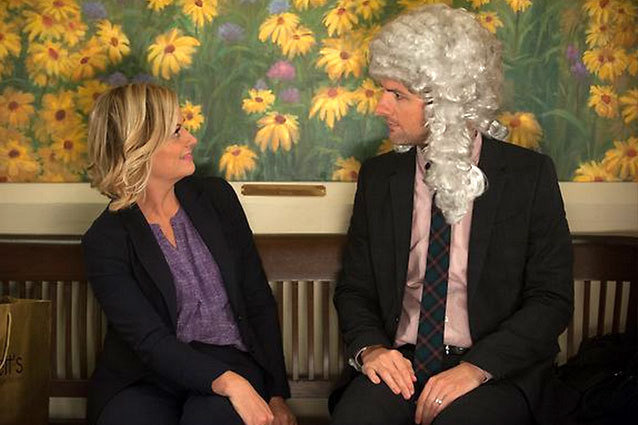 NBC 
As we fade back in right where we left off last year, we can all collectively exhale as Ron (Nick Offerman) gets the news he is going to be a father, adjusts surprisingly well, and plans the world's quickest quickie wedding on the fourth floor of the government building. As April (Aubrey Plaza) and Leslie (Amy Poehler) look on, he and love interest Dianne (Lucy Lawless) recite truncated vows ("I'm tired of not being married to this woman!") and kiss in a shower of tissue fragments. Just like that, we're back to a show and characters it's impossible not to love. Hop foward a month, and the whole gang is on a trip to London so Leslie can break from being the most hated civil servant in Indiana to recieve an award for inspiring women around the world. But when she sees how much the other women are loved by their communities, her frustration with Pawnee bubbles over, and her scathing speech about her hometown is beamed right back to them online, fueling the fire for their plan to get Leslie out of office. After so much Leslie/Ben (Adam Scott) angst in the past, it's nice to see their relationship secure and that work goals will be driving Leslie this season.
Also in London, we had Ron's disdain with Europe slowly transforming into respect and Ben's quest to expand the charity he and Andy started last season. Both stories were simple and paid off with great moments, including Andy's new best friend, a bona fide British noble and all around goofball played by Peter Serafinowicz. Chris Pratt and Serafinowicz are so fun together that it's a shame that plot was designed to write Andy off the show for Pratt to film Guardians of the Galaxy.
Back home in Pawnee, Tom's (Aziz Ansari) mystery nemesis and owner of the "Rent-a-Swag" knockoff was revealed as Jean Ralphio/Mona Lisa's father, and even if it does strain credulity that Henry Winkler's Dr. Saperstein was foolish enough to believe his kids are anything but emotionally stunted idiots, it provided enough great jokes that it didn't matter.
The only plot that felt extraneous was Chris (Rob Lowe) and Ann's (Rashida Jones) pregnancy reveal (in an episode with a wedding, two pregnancies, a surprise scavenger hunt, a trip overseas written expressly to give a character an excuse to go make a Marvel movie, and two remote controlled helicopters). The wonderful thing about Chris Traeger is that he could have chemistry with a wooden spoon, but  Ann is starting to feel like a wooden spoon. It may not be a bad thing that these two are set to exit the series halfway through the season.
The theme of last night's episode, and, in a way, the whole show, was maturity. When Leslie vents about the childish population of Pawnee, she's not wrong. But, as Ron reminds her, she's a grownup, and as tempting as it is to react immaturely, being a grownup is what she's good at, and what she really loves. In a way, that sums up the series. We've seen these characters evolve over the past five seasons, and while there have been job shakeups and romantic entangelments, these people are moving into a happy middle age. Which outside the protective, cynical bubble of 30 Rock (RIP!) and Community (…we'll see) occasionally threatens to become too sweet, but is still one of the best returning sitcoms this fall.
Questions, Comments, Concerns:
-While a symmetrically faced Heidi Klum (with accompanying goat cheese statue) made a pleasant guest star, the standout has got to be the wolverine wrangling Mongolian mayor, right?
-April's quest to become a vet didn't factor in to this overstuffed episode, but hopefully it's back next week. 
-As Jerry explained the miracle of lactation to a horrified Ann and Chris, the show took it's first turn towards Cronenbergian body horror. 
-Dear Donna, never change. Love, Everyone. Dear P&R writers, please write more for Donna. Sincerely, Everyone. (Even Satan.)
More:
Rashida Jones and Rob Lowe Are Leaving Parks and Recreation
'Parks and Recreation' Says Goodbye: How To Write Off Ann and Chris
The Best of the Parks and Recreation Gag Reel Season 5
---
From Our Partners:


A Complete History Of Twerking (1993-2013) (Vh1)


20 Grisliest TV Deaths of 2012-2013 (Vulture)