'Parks and Recreation' Recap: The Pawnee-Eagleton Tip Off Classic (Season 6, Episode 2)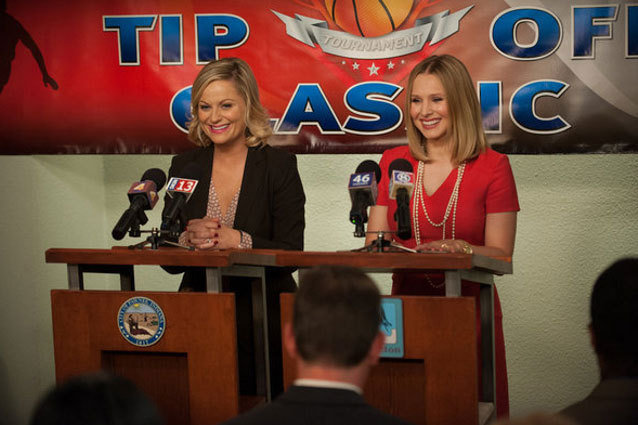 NBC
This week's Parks and Recreation marks a return to Pawnee and, strangely enough, feels like a return to the show's third (and, in my expert opinion, best) season. Leslie (Amy Poehler) is consumed with fierce pride for her town and equally fierce hatred of the neighboring Eagleton, led by their version of Councilwoman Knope, Ingrid de Forest, (played by guest star Kristen Bell). When the towns meet for a yearly high school basketball competition, Leslie mocks the snobs to bump up her poll numbers in the upcoming recall election.
But Chris (Rob Lowe) and Ben (Adam Scott), back in money management mode, cross town lines to find that their snooty neighbors are flat broke. When they try to find a way to help, the two are met with resistance from Leslie. While Leslie's conflict with Ben falls a tiny bit flat, all of her Eagleton burns are top notch (and by top notch, I mean corny and hilarious). However, Leslie finally realizes that the only way to both help Eagleton and protect Pawnee is to combine the two towns, so she sucks it up and takes the heat from the rowdy citizens on both sides of the border. In the past, it's felt like Leslie's hatred for Eagleton has crossed over from funny to pathetic. But right now, with the federal government more inefficient then ever, it is somewhat cathartic to see a competant bureaucrat taking idiots like the fat cats in Eagleton to task, and yet winding up willing and capable of helping them in the end. 
Meanwhile, April and Ann take a road trip to Bloomington for April to check out the veterinary school, and Anne to unexpectedly realize that maybe the chemical wasteland of Pawnee is not the best place to raise a child, all of a sudden providing an out for her and Chris to move later in the season. While that is a nice and simple way to start the process of moving those two on, it also makes April, never the sweetest, seem mean as she knee-jerkedly rejected the school Ann worked hard to help her gain acceptance to on the basis of one slightly annoying tour guide. April may have inadvertantly helped Ann, but she isn't helping herself. Hopefully the show isn't so afraid of losing Aubrey Plaza that they limit the character, who could use some forward momentum. 
And finally, if they had to do an episode full of Windows product placement, at least it was couched in the very in-character Tom and Donna spending a whole day enjoying the social media grid as Ron tries fruitlessly to escape it. Ron's attempts are foiled in a very reasonable conclusion that as a husband and father, he has to just barely be a part of society. 
Questions, Comments, and Concerns:
-Ron's first Vine is a thing of beauty. "Delete all pictures of Ron!" 
-April only agrees to go on the college tour if she can pretend Ann is her 65-year-old grandmother, and Ann gets a little too into it. "'Youngsters'? Am I 65?"
-The top two sexiest things Ben's ever said to Leslie both are about slamming Eagleton. "Yes, because Eagleton sucks." 
-Chris Bosh is a member of the Eagleton high school basketball team, and he's a little bit of a showboat. No need to keep dunking when you're 50 points up.
-It's useless to compare apples and oranges… but the oranges are made of Swavorski crystals, while the apples have all been recalled due to a G-Coli breakout. Oh, no, it's way harder to treat than E-Coli.
-Leslie's Powerpoint presentation on "helping" Eagleton featured very little practical advice and mostly just pictures of her holding champagne, jumping on graves, and doing a jig with #BROKE superimposed on top. 
More:
Amy Poehler Disses Kristen Bell in 'Parks and Recreation' Clip
'London' Is an Overstuffed Hug From and Old Friend
Guillermo del Toro's Simpson's Opener
---
From Our Partners:


A Complete History Of Twerking (1993-2013) (Vh1)


20 Grisliest TV Deaths of 2012-2013 (Vulture)