'Parks and Recreation' Recap: The Best Bits in 'Flouride' and 'The Cones of Dunshire'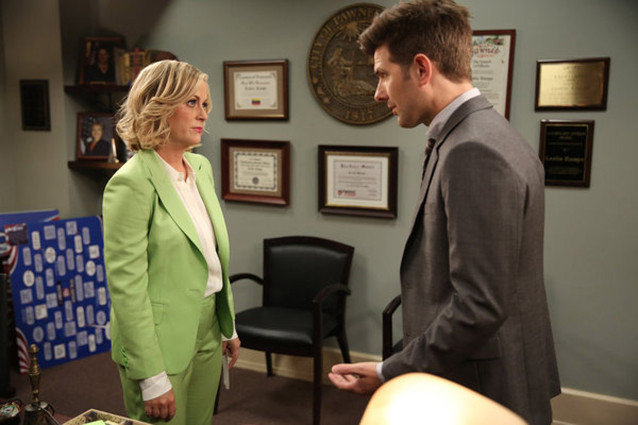 Tyler Golden/NBC
To honor the spirit of Ron Swanson and his rules for conversation, let's keep this week's plot summary to 100 words. In "Flouride," Leslie channels her wild card side to get the people of Pawnee to embrace incorporating flouride into their water by using Tom's PR savvy. Meanwhile, in "The Cones of Dunshire," we see an increased role for Chris but no Ann as Leslie attempts to break ground on a new park in hopes of persuading her best friend to stay. Ben switches jobs no less than three times, Billy Eichner returns, and Ron owns four cabins. Plus, plenty of Donna!
Great. Now, let's get to the funny stuff: 
"Flouride":
-The Indianapolis Colts cold open is a bit of a wash, though Donna shutting down Robert Mathis because he's just a linebacker is a nice touch. "Skilled positions only" for Donna Meagle. 
–Amy Poehler plays it dark this week, with Leslie turning from her usual sunny optomism to a shoot-from-the-hit maverick who isn't afraid to get on anyone's bad side, even her own mother's. The woman needs to know what flouride is. She's smarter than that!
-This episode asks the very important question: Why haven't April and Donna ever hung out? You know, ever? The answer: Because then we wouldn't have gotten April's quest to figure out what type of dog Donna is, only to realize she's a cat, and truly win her friendship. Aww!
-Ron considered for a moment that Moby Dick might be a metaphorical journey about a man raging against mortality, then thought better of it. 
-Tom's Twitter nonsense is spot on. "The top 100 tweets using #TDazzle will be eligible to win a plain blue Tshirt!" 
-Perd Hapley clearly knows what chemicals are. 
-Nothing's crueler than sticking a woman in a lime green pantsuit. "It will be so unflattering. You're clearly an autumn."
 "The Cones of Dunshire":
-This is quite a week for Councilman Jamm, who not only tries to stop the flouride plan, but also to stop Leslie from getting to use her collected funds to build her ideal park. And he doesn't make it easy for Leslie to court him in order to change his mind.
-After seeing his apartment, it makes much more sense why he's so proud of his car. "I got an Asian girl to sit in it once."
-He also has some insider advice about edamame. "You eat the shells and discard the seeds."
-And when enjoying karaoke, there's only once choice of song ("Summer Nights," from Grease) and one choice of part (Sandy for him, Danny for Leslie). The accompanying jackets are a nice touch.
-The titular makeshift tabletop game should have been the focus of the episode, as Ben's unemployment projects tend to be. And, as with his stop-motion animation, he instantly realizes "this is nothing." 
-Here, Tom and Donna try to sell Ron's bachelor cabin off to some truly annoying and out of place hipster stereotypes, but the story manages to wrap up sweetly when Ron realized the only person would really take care of the place is April. 
-Great fakeout with those accountants. At first, it seems like Ben might have to prove himself, but he does so instantly, and is beloved. Calzones for all! And was it wrong to wish that Ben would actually stick it out and get to stay big man on campus for once after playing second fiddle to Leslie in every aspect of his life for so long?
-I hope we don't see Councilman Jamm again anytime soon, not only because his constant repetative antagonism is making me hate Jon Glaser, but because the way he goes out in this episode is so perfect. "Leslie, you're my best friend too."