'Parks and Recreation' Recap: Pawnee Gets Political and Jerry Leaves the Parks Dept.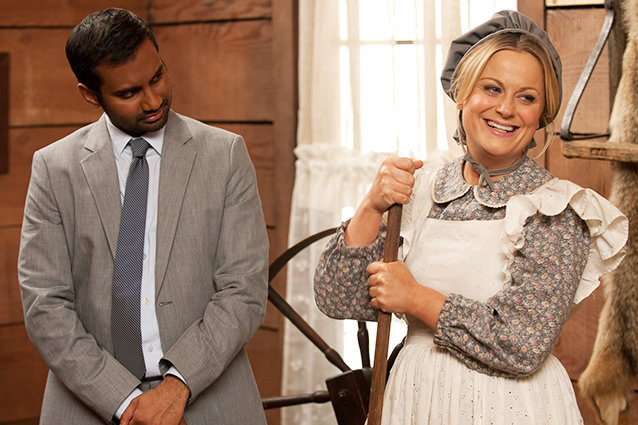 And… we're back! After a four week slump filled with more placating smiles than actual laughs following the perfect Ben and Leslie wedding, Parks and Recreation was back to its usual hilarious, irreverent self on Thursday with two back-to-back episodes. 
In the first, titled "Article Two," Leslie takes up arms against Pawnee's antiquated laws, and in "Jerry's Retirement" Jerry, well, retires. But is there any way good ol' Jerry will be able to stay away from the Parks Dept. for long?
Here are highlights from the Parks and Rec double header on April 18.
Leslie Vs. Patton Oswalt 
Genius comedian and King of the Internet Patton Oswalt guest stars in "Article Two" as Garth, a Pawnee citizen hell-bent on maintaining Pawnee's old ways — including bylaws such as "all menstruating women should be confined to their bathtubs." In filibustering Leslie's Town Hall meeting in which she planned to eradicate the antiquated provisions, Oswalt effectively stole the show. In fact, he stole it two days earlier when an outtake of his incredible nine-minute Star Wars/Marvel tirade hit the Internet. 
But the genius of this storyline was the way it subtly commented on the greater gun control debate currently rampant in our country. I don't think it's a stretch to say that Garth's clearly ludicrous comment that the Pawnee charter is "not a living document" and shouldn't be changed is a nod — or, more accurately, a head shake — to staunch defenders of the Second Amendment. "Our founding fathers were courageous and they were brilliant, but they also had wooden teeth and pooped in a hole in the ground," Leslie says. They also used their muskets for hunting and protection against livestock thieves. 
Garth's filibuster, as impressive as it was, also highlights a hot (albeit less sexy) issue Congress is currently facing: filibuster reform. 
Back in the good ol' days of Parks and Rec, the show was less hesitant to take on topics of greater social import. In Season 2, Leslie was faced with her very own sex scandal and addressed the issue of gay marriage head on with the union of two male penguins. In Season 3 we then combated censorship ("Jerry's Painting"). In a show about government, albeit the small town version, I love seeing real-life political issues confronted.  
Eggs, Bacon, and Toast!
While Leslie and Garth (in their lovely 18th century garb) dominated the night's first episode, "Jerry's Retirement" was all about everyone's famous punching bag. It's his last day at the Parks Dept. and no one realizes until he's on his way out the door with his little cardboard box. Leslie then determines to make Jerry's last day his best ever.  
And that brings us to one of the best things I've seen on this show in a long time: the Gergich Family Breakfast. Leslie joins Jerry, his beautiful wife Gail, and the three Gergich bombshell daughters as they gather 'round the breakfast table for a lively rendition of "Eggs, Bacon, and Toast!" 
While I found the B plot involving Jerry — in which the remaining Parks Dept. worker bees seek a new outlet for their tormenting  — to be a bit over the top in its mean-spiritedness, it did provide a touching moment between Tom (the "new Jerry") and Ron. It also set up the big return of Jerry to the office, as a part-time intern. We all knew Jerry wasn't really going anywhere. 
So Many Pamphlets 
This week we also returned to Ann Perkins' pregnancy plotline. Now that Chris Traeger has agreed to be the father of her artificially inseminated child, the two prepare for the big day. But then, a twist! Along the way, the two fall back into lust. 
After a few enthusiastic hookups, the two realize they have a rather confusing situation on their hands. While they don't want their baby to be privy to an unstable on-again, off-again relationship between their parents, Ann wonders if maybe she and Chris were meant to be after all. Maybe they could raise a child as a couple. The episode ends with their relationship very much still in Limbo, as Chris offers "The most important thing is that we have a child, and I don't want to do anything to jeopardize that," as his only attempt at reconciliation. (And then they make out.) Chris, that you two want a baby is the problem, not the solution. 
Worth Mentioning
I think now is the time to applaud Parks' effective use of popular culture references. Few shows can so seamlessly transition from accurate Game of Thrones references — "Everybody on that show can get it," says Donna — to thinly veiled references to The Americans (in the form of Ben's conspiracy theory for the Jerry-Gail marriage), to Oswalt's aforementioned brilliant filibuster. 
Keep up the good work, Parks. 
Follow Abbey On Twitter @AbbeyStone
More:
'Parks and Rec' Recap: 'Animal Control' 
'Parks and Rec' Recap: 'Partridge'  
'Parks and Rec' Recap: 'The Bailout'  
---
From Our Partners


Stars Pose Naked for 'Allure' (Celebuzz)


Which Game of Thrones Actor Looks Least Like His Character? (Vulture)