The Finale Twist Was Exactly What 'Parks and Recreation' Needed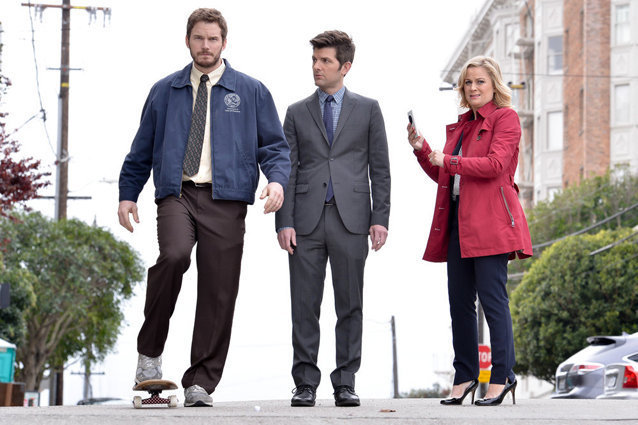 NBC Universal Media
The most memorable image from the sixth season finale of Parks and Recreation, "Moving Up," wasn't Leslie settling into her new title as National Parks Midwestern Regional Manager, or Ben handily defeating a startup CEO at Cones of Dunshire, or even the hologram appearance of a Lil Sebastian hologram at the Unity Concert. No, the most enduring shot from the episode was the last one, with Ben and Leslie, three years in the future, heading off to tackle whatever obstacle has been placed in front of them this time. It's the kind of shot that would cap off a satisfying season finale. One that would give fans comfort that the characters would be fine long after the show goes off the air. But "Moving Up" isn't Parks and Recreation's series finale; we still get to spend at least one more year in Pawnee, and that's what really makes the time jump exciting. 
Parks and Recreation's sixth season has been plagued by repetitive storylines, which have seen Leslie's character stagnate while she comes up with increasingly ridiculous reasons not to leave her hometown for a job that's perfect for her. Throwing a late-season pregnancy into the mix did revive things somewhat, but it left many fans worried about having to endure a season of the Wyatt-Knopes dealing with the same kind of baby woes that plagued Ann and Chris. Once it was revealed that Leslie was going to have triplets, it seemed as if she might abandon her dreams in order to raise a family, which would be a puzzling choice for the hyper-driven, over-ambitious Leslie. The show seemed to have run out of ideas, or at least ones that could keep fans interested, and it was disheartening to see Parks and Recreation spinning its wheels. 
And then the camera panned out from the photo on Leslie's wall, and suddenly Parks and Recreation was the show we all knew and loved once again. There was Leslie, with new bangs to go with her new job, running the office with the kind of efficiency and authority that it was impossible to have downstairs. There was Ben (wearing a tux), and their children, being babysat by Andy and April, who are presumably back together after their "divorce." It was a risky move to have so much happen off-screen, to use the last minute of the last episode of the season to hint at everything yet to come, but it's one that paid off immensely. 
Shifting the show's status quo opens up all kinds of potential storylines for the seventh season, which is something that the show desperately needed. Leslie has achieved everything she possibly could in her old position, and we've seen her win and lose so many times that there doesn't seem to be any causes left for her to fight. The writers have established multiple times that she's too good for her town, that she deserves better and more respect, so keeping her in a thankless job for another year would have been both pointless and unsatisfying. Putting her in a new job, one that she's clearly excelling at, gives her character a new sense of direction, and a new place for her to channel her endless ambition. Plus, the time jump leaves fans with plenty of unanswered questions about whether the characters are in their lives, which means that they're already invested in the new storylines. After all, you can't introduce a character who is more incompetent than Jerry/Larry/Terry and then never tell us anything about him. 
The time jump also perfectly encapsulates the way that Parks and Recreation handles major life events. Though three couples have gotten married over the show's run, only one of them recieved the traditional "special episode" treatment — Andy and April's wedding was an impromptu affair in their living room, and Ron and Diane had the most efficient wedding of all time — and all five new children born this year were birthed off-screen. This is not a program that lets sentiment course through each of its episodes, so it doesn't need to force big, romantic gestures into its process (even though it occasionally opts for those as well). Every episode is filled with heart, so why shouldn't the focus instead be on Leslie succeeding at her job or Andy being the worst babysitter in the world? Above all else, Parks and Recreation is a workplace comedy. The thing that binds all of these oddballs together is their jobs, as ever-changing as they may be, and so refocusing the show on their professional achievements instead of their personal makes perfect sense. We know that Ben and Leslie are going to be okay; what we're interested in is how Leslie's handling her new title. 
At its heart, Parks and Recreation is a show about optimism. Leslie truly believes that she can make the world a better place, and that everything she does is for the good of the people she loves. That outlook fuels her ambition, and pushes her to keep fighting and achieving more and more. Never has that message been clearer than it was with Ben asking Leslie if she's ready for whatever it is they have to do next. "Not at all," she says, "But that's never stopped us before." In addition to being a hell of a note to end on, that line is the essence of the show, a manifesto about believing in yourself, your partner, your friends, and your town, and not letting anything stop you from pushing forward and achieving what you set out to. 
It's a weirdly final moment for the episode to end on, considering there's another season left to come. But it's a fitting finale for that particular chapter of Leslie's life. She's spent the last six seasons striving to make Pawnee better, and through the merger with Eagleton, she's accomplished that. She needed to move on (even if not geographically) and focus on achieving her other goals. Now she has a family that she can raise in a town she's proud of, and she has a job that's offering her new challenges and changes. The finale didn't just bring the sixth season to a close, but it also put a satisfying cap on an important part of Leslie's story. She's finally moving up, professionally, temporally, and literally within her building, and it's the most exciting Leslie Knope has ever been.