'Parks and Recreation': What You Need to Know Before Returning to Pawnee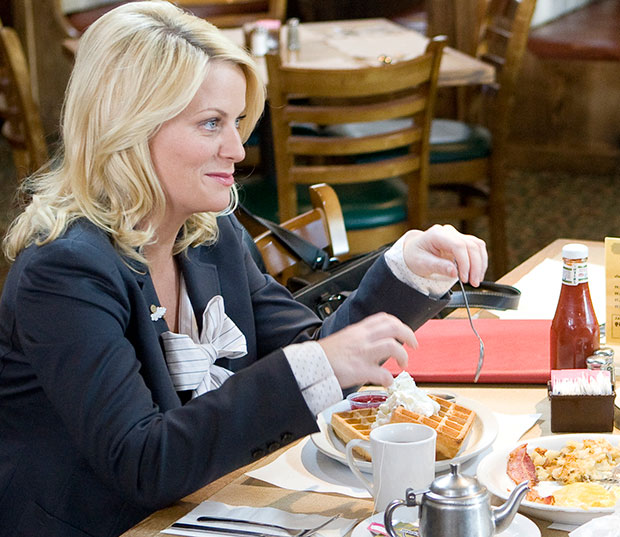 Over the next few months, we'll see new series soar, old series sour, and so much Jersey Shore madness, we'll want to shower. Let's face it: The Fall TV season is intimidating. With dozens of new and returning shows hitting our small screens, we know we have some big choices to make. So, to help you determine what to watch, we're digging deep into the most notable series premiering this season. Where did each show leave off? Where is it headed? And who should you watch it with? Today, we're look at the returning series Parks and Recreation which is entering a fifth season that will take Leslie Knope to city council, Ben Wyatt to Washington D.C., and Ron Swanson to… J.J.'s Diner, probably.
Series: Parks and Recreation
Premiere date: Thursday, September 20
Number of seasons on air: Four going on five
Cast: The Emmy-deserving Amy Poehler, the impossibly magnificent Rashida Jones, the mile-a-minute Aziz Ansari, the hilariously uncomfortable Adam Scott, the stone-faced wonder Aubrey Plaza, the world's greatest secret agent Chris Pratt, the microchip himself Rob Lowe… and Ron f***ing Swanson: Nick Offerman.
Synopsis: Leslie Knope has served as Pawnee, Indiana's Parks Department deputy director for half a decade, but has serves as Pawnee, Indiana's most dedicated citizen for her entire life. Driven to help make her hometown the best place it can possibly be, Leslie enlists the assistance of her government-hating, bacon-loving, people-avoiding boss Ron Swanson, her image-obsessed right-hand man Tom Haverford, and the rest of her what-it-lacks-in-style-it-makes-up-for-in-substance department to turn pits into parks and dreams into reality. Along the way, Leslie meets her arch nemesis: budget-slashing government actuary Ben Wyatt… who incidentally turns out to be her soul mate.
Where we left off: After an exhausting political campaign, Leslie had achieved her lifelong dream of winning an election for public office. Now a city councilwoman, Leslie will have to balance her new position with her old job, while boyfriend Ben takes his own new steps, moving to Washington D.C. to embark upon a career as a senatorial campaign manager. Meanwhile, would-be rockstar Andy Dwyer might find a new career of his own: police officer, and Ann Perkins and Tom Haverford… yeah, they're still a thing.
You'll like it if: You love character-based humor, heartwarming storylines, lessons about friendship, hard work, horses, and waffles.
You won't like it if: You're a Disney villain with a cold, black heart (a.k.a. an Eagletonian), or you're some kind of salad-loving weirdo.
Required reading: Pawnee: The Greatest Town in America by Leslie B. Knope; anything by Jack London.
Who to watch with: That's the beauty — ANYONE! Your parents, your grandparents, your children, your friends, your angry neighbors, your disenchanted cousin, your goth classmate, your high school bully, your women's studies professor, your local sewage department representative, your three-legged dog… ANYONE!
What to eat while watching: If you're a Leslie, waffles. If you're a Ron, bacon. If you're a Tom, albacore tuna with crispy onions. If you're an Andy, Andy's Mouth Surprise (a.k.a Skittles Sandwich). If you're a Ben, calzones (but don't tell anyone). And if you're a Chris, vegetable loaf sweetened with fruit reduction.
Best piece of merchandise: Never leave home without your Entertainment 720 fireplace bellows.
Best fashion tip: The best thing to wear after a night of romantic forays? Red polo and slacks. The Tiger Woods look.
Advice the show has taught us: "Don't half-ass two things. Whole-ass one thing." "You deserve to be a champion." "Treat yo'self."
Breakout character: First it was Ron. Then Andy. Then Jean Ralphio. Bring someone on, we'll grow to love 'em.
Inspired Halloween costume: A pirate, a police officer, T-Pain, Chuck Liddell, a sumo wrestler who has lost all the weight, a guy with a seductive pizza box, Mr. Potato Head, Sherlock Holmes… or just Oren.
Don't expect to: Maintain a fight with your friend while watching. Parks is so monumentally heartwarming, life-affirming, and humanistic, that you can't possibly expect to watch a single episode of these goodhearted shnooks banding together without realizing how much you love and cherish your own friends and family. If you enter an ep amid the throes of a feud with a lifelong pal, you'll be racing to the phone to make amends midway through the first commercial break.
Binge watching potential: It's consistently funny (the third season especially) and continuously uplifting. So make a weekend of it.
GIFs to familiarize yourself with:
Leslie
Ron

Ann and Tom
Ron
April
Ron
Andy
…and Ron
Ways to "fit in" to the Parks culture: Purchase a Mouserat CD, avoid salads/pizza, put your mouth on the nozzle when drinking from a public water fountain, show up at public forums and start chants about your cat, develop either a fervent fandom for or a stringent problem with The Twilight Saga, watch Joan Calamezzo religiously, start believing in curses, and embrace your town's horribly culturally insensitive history.
Stigmas to break: No, it's not just The Office with a girl Michael Scott. Although the documentary aesthetic is the same, Parks has a spirit and a life force unlike anything else on TV. Leslie Knope is a vibrant hero with a band of misfit sidekicks who make up one of the greatest ensembles on the air. Even if you're not a fan of The Office's good years, you WILL like Parks. It's deeper, sweeter, and more flavorful. Check it out!
[Photo Credit: NBC]
More:
'Parks and Recreation' Blooper Reel: Andy Loves No. 2 — VIDEO
TV Network Swap: What If 'Parks and Recreation' Were on CNN?
Emmys Idle Threats: Give Louis C.K. an Emmy or I'll Make You Babysit Never