'Partners' (Finally) Canceled by CBS: REPORT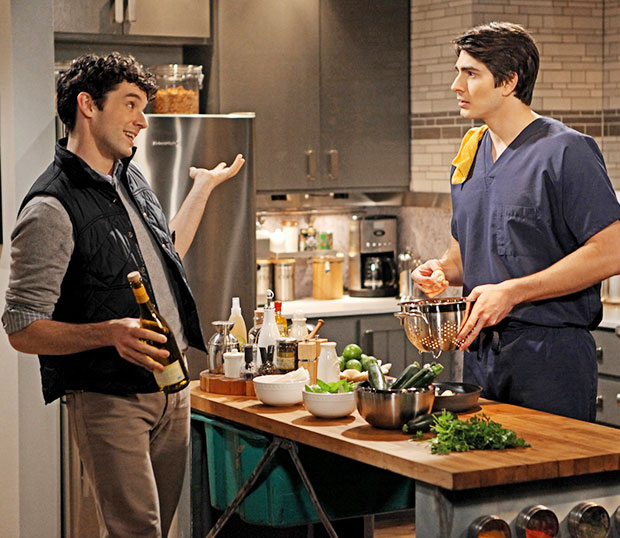 CBS' freshman comedy Partners has been canceled, Deadline reports. Developed by Will & Grace creators David Kohan and Max Mutchnick, the series has been pulling in, on average, a tepid 6.5 million viewers and a weak 2.4/6 in adults 18-49. That's well below the numbers seen by the Eyeball's hit comedies How I Met Your Mother, Two and a Half Men, The Big Bang Theory, and Mike & Molly. The CBS audience just didn't warm to the on-screen friendship of Michael Urie and David Krumholtz, as a gay man and heterosexual respectively, which Kohan and Mutchnick based on their own relationship as best friends and business partners.
Oddly enough, though it routinely placed third in the 18-49 demo in its 8:30 p.m. Monday night timeslot, and fourth in total viewership, Partners is nonetheless the highest rated show to be axed so far this season, following the cancellations of the even lower rated Animal Practice on NBC and CBS's own Made in Jersey (which the network now plans to revive on Saturday nights.) Kohan and Mutchnick's previous series, $#*! My Dad Says, starring William Shatner, was also euthanized quickly by CBS last season, following an 18-episode run.
CBS has not yet responded to Hollywood.com's request for confirmation about Partners' cancellation.
[Photo Credit: CBS]
More:
The Ax Factor: Chicago Fire and Beauty and the Beast Escape the Reaper
Everything You Need to Know Before Watching CBS' New Comedy Partners
The Ax Factor: Arrow and CBS Dramas Hit Their Mark, Emily Owens is DOA

'Breaking Dawn — Part 2' Star Peter Facinelli Moves On In New York; 'Twilight' Actor Grabs a Bite With Actress Jaimie Alexander (EXCLUSIVE PHOTOS & DETAILS)
(Celebuzz)