Paula Abdul Makes the 'X-Factor' Shortlist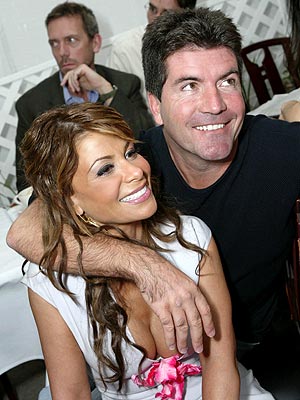 This is disappointing. After we got over the whole Paula Abdul and Simon Cowell dynamic over on Idol, they're now thinking about bringing it back on X-Factor? Sure it will draw some nostalgic viewers, but it will also make me feel like I'm living back in 2002 when boy bands ruled the world and I thought that having every piece of my clothing be the same sparkly shade of baby pink was fashionable.
Also confirmed on the shortlist are George Michael, Nicole Sherzinger, and Mariah Carey. Now, Carey I get, but what's with the other two? Is Cowell trying to make the X in X-Factor stand for eX successful recording artists who can get their jollies off judging potential new singers? Because that's what it looks like. Not to mention the fact that Sherzinger and Michael aren't exactly renowned for their incredible vocal talents. Sherzinger is famous for being a scantily clad, glitter-covered burlesque dancer in a troupe of seven other whores. (Yeah, I kind of hate The Pussycat Dolls.)
While we were finding out who might show up on the final panel, we also found out who won't. Simon confirmed that neither Katy Perry (because she's way too famous for that) nor Elton John would be considered, adding "Well, he's so grumpy nowadays, I mean, it would be like, he'd just be moaning the whole time." Right. Because you definitely aren't known for your overly cantankerous style of commentary that would make an angry porcupine look like a better alternative for a conversation partner. I think Simon's just worried that Elton John would out-diva him, out-cranky him, and best of all, out-British him.
Source: THR