Paula Deen Tries To Butter Up 'Saturday Night Live' For A Visit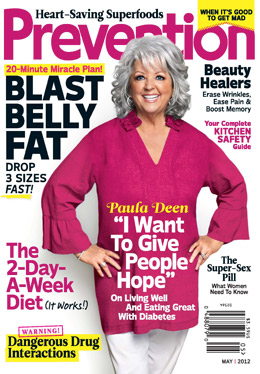 Gracing the cover of a magazine that promotes healthy living, butter connoisseur and actual cheesecake fryer Paula Deen opened up to Prevention magazine about living with her type 2 diabetes. Despite being the subject of criticism (particularly by fellow celebrity chef Anthony Bourdain) and ridicule regarding her health crisis, the Food Network star has still maintained a healthy… sense of humor about herself.
When asked if she'd seen Kristen Wiig's deliciously over-the-top impression of her on Saturday Night Live, Deen (who at one point in the interview described herself as "finer than frog's hair" and if you can figure out what that means please share in the comments section below) said, "Oh my gosh, that made me just die laughing…it was so tongue-in-cheek. I never miss an opportunity to laugh, even if it's at myself." Deen who clearly had no hard feelings towards Wiig (she called her impersonator "brilliant" and "the most talented female that's been on Saturday Night Live since Gilda Radner") told Prevention, "I need to send her a thank you note."
Although, it seems Deen is eager to deliver the note in person. "I want to be on Saturday Night Live so bad I can hardly stand it," Deen admitted, "I think it would be a hoot." Come to think of it, so do we.
Should SNL invite Paula Deen over for a visit? What about if its under the stipulation that she brings a donut hamburger?
[Photo credit: Prevention]
More:
Paula Deen Sued For Sexual Harassment
Paula Deen Denies Employee's Racism, Sexual Harassment Claims