PBS Isn't Shucking Around with Fake Reality TV Trailers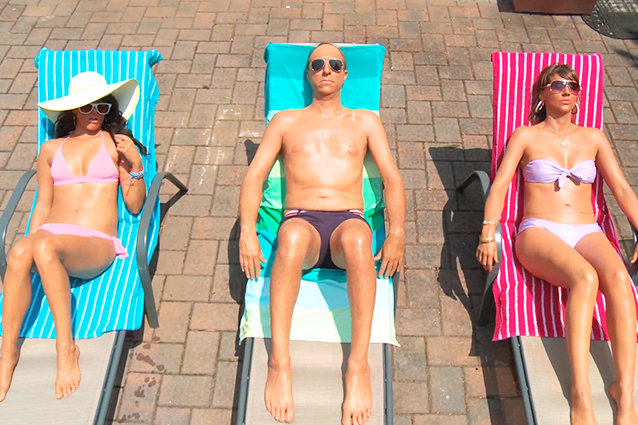 In recent years we've been fortunate enough to have TV shows like Breaking Bad, Mad Men, Dexter, and a whole slew of other high-quality series on the air. However, while the quality of some shows has gone up, the quality of others has taken a considerable downturn. Keeping Up with the Kardashians. Jersey Shore. My Super Sweet 16. Do I even need to keep going?
But now PBS is trying to improve the state of today's television, one fake trailer at a time. New York's PBS station WNET made three trailers for it's new reality TV shows. But at the end of each trailer a message reads, "The fact that you thought this was a real show says a lot about the state of TV. Support quality programming."
The trailers are part of a larger viral campaign that started with posters for other fake reality shows Married to a Mime, Bad Bad Bagboys, The Dillionaire, and Knitting Wars. (In all honesty though I would probably watch Knitting Wars. Those needles could do some damage.)
"We've been experimenting with humor as a way to cultivate new viewers and donors," WNET president Neal Shapiro told The Wrap. "And these spots are really fun."
Check out the trailers now. Would you watch any of these shows?

"I think the ability to tan is just something that you're, like, born with."

"There's an unspoken clamdigger oath: You stay to your territory."

"Flamingos. Elegant bird."
Follow Jordyn on Twitter @jordynmyah | Follow Hollywood.com on Twitter @Hollywood_com
More:
TV Network Swap: What if 'Jersey Shore' Was On PBS? 
PBS Wants You to Know That 'Downton Abbey' Is Its Highest Rated Drama, Duh
PBS Announces 'Downton Abbey' Season 4 Will Premiere In January 2014
---
From Our Partners:


What Happened to 33 Child Stars (Celebuzz)


40 Most Revealing See-Through Red Carpet Looks (Vh1)