'Perception': Another 'Crazy Guy Solves Crimes' Show, But It Just Might Work!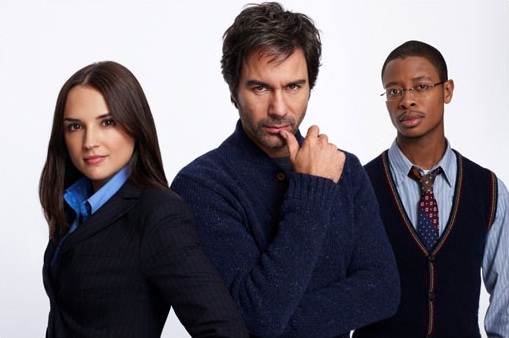 How would Will have turned out if he never met Grace? If the series premiere of Perception is any indication, not great. Will & Grace star Eric McCormack headlines TNT's new crime drama as a college professor and neuroscientist with a penchant for accusing students of wanting to sleep with him, "air conducting" to headsets of classical music (cassette tapes only) in broad daylight, and seeing people who aren't actually there — he's schizophrenic. But, in TV's true fashion of romanticizing psychological imbalance, he's also a charming genius.
The series opens with Daniel Pierce (McCormack) being approached by a former student with a special place in his heart: Kate Moretti (Rachael Leigh Cook), a recently demoted FBI agent who has returned to Chicago, and is now calling on her old teacher to once again aid in the investigation of a crime. Pierce's expertise proves useful in cases involving mentally unbalanced individuals: in this situation, the woman accused of murdering her husband appears to be delusional, as is presumed by Moretti — and later confirmed by Pierce — to be innocent. As we can see almost immediately, he's one hell of a detective in his own right.
But he's also sick. Pierce struggles with discerning reality from hallucinations in this episode — a new figment of his imagination comes forth, likely provoked by the anxiety of having his cherished Moretti back in his life. Pierce is afraid that she'll see him at his worst; thus, his worst is conjured.
This premise of "crazy guy solving crimes" is hardly a unique one. Many a detective series, from more recent entries like Monk and NUMB3RS, dating back past Columbo and all the way to Arthur Conan Doyle's Sherlock Holmes novels — remember, Doyle wrote him to be a coke head — has employed this idea. So what separates Perception from the lot?
The most obvious thing the show has going for it is casting. Star McCormack is a terrific showman who hasn't really had much of a chance to exemplify his talent since his NBC comedy went off the air. Cook, too, will stir up some turn-of-the-century nostalgia — it's good to see her around again. And best of all: Arjay Smith, the titular hero on Nickelodeon's The Journey of Allen Strange, plays Pierce's live-in teaching assistant and sole trusted friend Lewicki — the only person who can both put up with Pierce and help him come to recognize the difference between reality and his own hallucinations.
But Perception needs more than late '90s nostalgia to sustain interest and quality. Therein lies the show's strongest quality: its lead character. Yes, he's a bit ham-fisted, and a stylized-for-television depiction of a human's struggle with schizophrenia. But he's interesting, and well delivered by McCormack. While some of the scenes consisting mainly of crime procedural devices plod on without offering much fun, the parts of the episode dedicated to really inspecting McCormack's torment and mindset are quite engrossing. His character is sad and painful, funny and charming. Plus, his best friend is Allen Strange, so… there's that again.
Unfortunately, Perception will likely keep McCormack's development a second priority to weekly crimes. Such is the nature of this type of program. As such, the series might not have much in it worth watching for anyone uninterested in the genre specifically. But if a happy medium can be discovered, wherein McCormack's character is allowed to shine beyond the confines of helping She's All That figure out if the guy who thinks Satan lives in his dishwasher actually murdered his landlord or not, then it might be a show worth sticking to.
[Photo Credit: TNT]
More:
Eric McCormack To Star In 'Perception'
'The Closer' Final Season Premiere: A New Definition to the Term 'Loose Cannon'
Russell Brand's 'Brand X' Premiere: Too Much Talk