'Person of Interest' Recap: Finch Trips on Ecstasy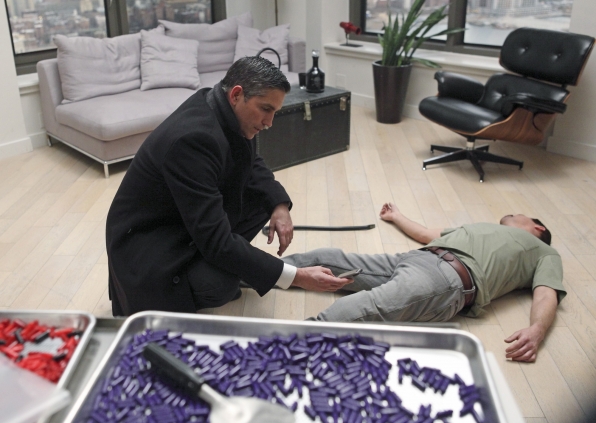 S1E18: Person of Interest isn't really a detective show at its nature. Episodes are fueled by action and the thrill of the overarching themes of rising crime syndicates (and the dirty cops in their pockets), Reese's and Finch's complicated back stories, and the troublesome government's watchful eye. Unlike your classic detective show, the viewer rarely gets involved in the activity of solving the case along with Reese and Finch. But maybe that ought to change — judging by this week's episode "Identity Crisis," the show can have a lot of fun with a good old fashioned mystery.
"I suppose I should thank you for making them evacuate the building…" – Finch
"Thank the automatic sprinkler system." – Reese
Reese and Finch get a Number that poses a unique dilemma — beyond a name (Jordan Hester) there is no information circulating about who the person is, including gender. He/she is not on any of the social networking sites (which, by the way, Finch claims he invented. All of them.) After some thorough investigation, the problems multiply: Reese tracks down one Jordan Hester, while Finch tracks down another, both operating with the same social security number. Finch concludes that one of these two individuals is an identity thief (along with being a potential murderer, or victim). But that's not even where the complications end.
The first Jordan Hester (Reese's) is a male bar back living and working in Brooklyn. No one of much consequence; just an ordinary suspect to Reese. The second (Finch's) is a young, attractive woman who appreciates the genius of Franz Kafka and has the politesse to speak sweetly with anxious, lonely men in bookstores. In other words, Finch falls for her. Right around this point is when you figure she has got to be the bad guy.
"Meandering exposition is kind of my thing." – Finch
And she is: the boss of an ecstasy lab who regularly steals identities to better cover up her illegal operation. The mystery isn't all that bewildering. Anyone who is well versed in the Law & Order formula can probably stay a few steps ahead of Reese and Finch throughout the episode. Within the first 20 minutes or so, they decree that the male Hester is the culprit thanks to some misleading evidence. Active watchers know that nothing learned in the first 20 minutes of a detective show winds up being true. But this doesn't take away from the fun of this episode of Person of Interest.
The fun lasts through Reese's and Finch's toss-around of theories and hypothetical procedures, while we at home work through the constant question of, "What might happen next?" And in addition to the sleuth game it throws at us, the episode also dishes out some of its rare humor, in perhaps the largest doses we have yet to see.
Finch is so smitten with the female Jordan that he intercedes on her walk down the street to inform her that she is in danger (jumping the gun, Harold), and escorts her back to her apartment so that she can pack a bag before they head to a safe place. But he is putty in her hands. Behind every action Finch performs, FJH is pulling the string. When Finch becomes too much of a nuisance, she drugs him with ecstasy, launching him into a comical drug trip, straight out of Orange County, The Girl Next Door and every other teen movie made within in a six year radius of 1999.
"It's a terrible plan. But I like it, so let's do it." – Reese
Of course, FJH is nabbed in the end, allowing MJH to get his life back. The details are standard Person of Interest stuff. Reese muscles his way out of a few jams, relies on one of his two secret allies (Fusco on this episode) to supply some vital info or evidence on the perp, and returns justice to a marred but grateful innocent. The story and everything it contributes are pretty standard and forgettable. But the manifestation of the whole thing is a lot more fun than your average Person of Interest.
Meanwhile, things might be taking an unhinged turn in Carter's camp. After the last episode, she is not too keen on Reese or his preferred methods of operation. Carter is approached by an FBI agent who has tracked down her old pre-"part of the team" casework on the man in the suit. They, too, want to capture Reese as part of a vendetta against the CIA, who represent a rogue, lawless pack of shady criminals on this program — what is worrisome is how accurate Person of Interest has been about everything else. Do we have a real CIA to worry about, Jonathan Nolan?
"Goodnight, Harold." – Reese
"Goodnight, Nathan." – Finch
Carter is obviously conflicted, especially after the agent describes the CIA's behavior and Reese's violent résumé. Although she hasn't exactly left the team, her loyalties appear to be swaying. Fusco, on the other hand, is inching his way toward "inner circle." Slowly, but it's happening.
With a fun-filled mystery, a laugh-a-minute drug sequence, and some interesting developments in the government's plight against John Reese, Person of Interest delivers one of its most enjoyable episodes in quite some time in the form of "Identity Crisis." When a totally loaded Finch utters "Goodnight, Nathan," at the end of the episode, a sweet and pungently somber tone overtakes what is otherwise an upbeat episode, reminding us just how lonely, sad and destroyed this poor man is. The episode in entirety is good characterization of Finch. He is easily swayed by the prospect of affection due to those very same characteristics. While Reese spends all of his time interacting with people, he manages by nature to keep them at a distance. The much more vulnerable, empathetic Finch needs to stay the privacy-sensitive hermit he is. Not just to protect against the government, but against broken heartedness.
Does this sort of episode work for you? Do you enjoy solving the case with Reese and Finch? How about when they infuse humor into the show? Let us know in the comments section, or on Twitter @MichaelArbeiter.