'The Pete Holmes Show' Round Up: From Anthony Jeselnik to…Deepak Chopra?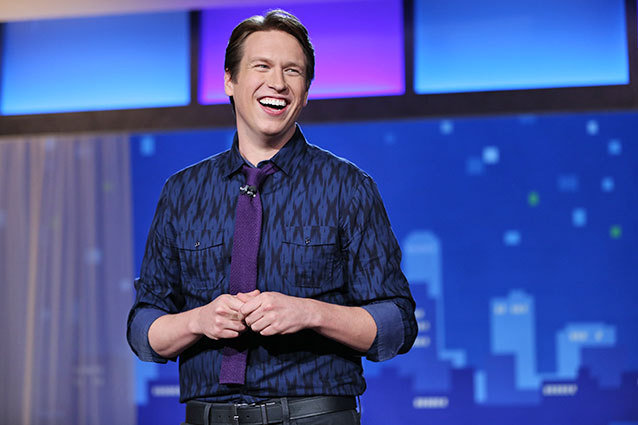 TBS
Pete Holmes himself summed it up best mid-show Monday night: "Whatever I say is the show. Isn't that weird?" He's in his second week of attempting to define The Pete Holmes Show. TBS states on their website that it "will showcase the comedian's incredible skillset, combining sketches, short films, live comedy, field pieces and in-studio guest interviews into a fast-paced half hour." Holmes has mostly been successful following this format, even if it feels like a complete mess sometimes.
This ambitious way of outlining the show suggests that Holmes' hodgepodge is not entirely his fault. Attempting to innovate the late night model and prove himself as host, Holmes is faced with the challenge of doing all this in half the time of a traditional talk show. This makes the "fast-paced" show feel rushed. Holmes can only establish himself and his show 30 minutes at a time, which is possible but still a challenge.
Holmes seems to be embracing the freedoms of unconventionalism, crafting clever stand-up comedy consistently in the place of a topical monologue. This has also allowed for a variety of sketches, studio pieces, and field pieces in just two weeks of existence. From highlighting hotel hypocrisy in the absurd "Wash My Damn Towels" to the brave but uncomfortable "Profound/Profane" with Deepak Chopra, Holmes is covering a lot of ground in a little time. 
It becomes more apparent every show that Holmes needs to use his time wisely. The "Fallen Sketches" piece pokes fun at sketches that did not make the air. Joking about cut material as opposed to showcasing actual material seemed like a misuse of minutes, at least this early on. The piece humorously implied a vault of material. We want to see the strongest sketches in there, not an homage to what wasn't enough.
The show is indeed whatever Holmes says it is, though it's early in the game but he's not there yet. Early ratings are not as encouraging as people's reaction to Holmes himself, but he is a great host even if his show is striving to be consistent. His comfort and enthusiasm quell his missteps. Tuesday's show proved this, as Holmes subjected himself the a roast from comedian Anthony Jeselnik. When Holmes says his problem is that the audience is too nice to him, Jeselnik bites back "I think it's cool that you think you only have one problem on the show." He then hilariously tells Holmes he looks like "the CEO of a pumpkin patch." It's important for Holmes to be funny, but he understands that it's more important to give guests room to throw punches and generate laughs. A great host can build a great show in time, and hopefully Holmes will have enough of it.