How Was the Debut of 'The Pete Holmes Show'?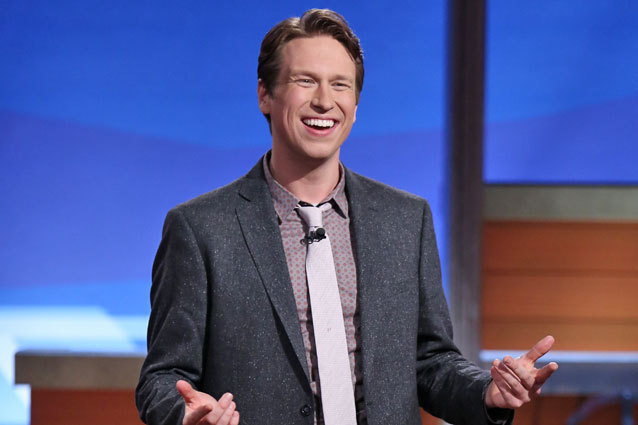 TBS
The Pete Holmes Show, formerly titled The Midnight Show, appropriately debuted at midnight last night. The new half-hour show not only follows Conan, it is produced by Conan O'Brien, a powerful endorsement despite being relatively unknown. The show kicked off with an X-Men spoof where Holmes plays Professor X downsizing Wolverine. The sketch was consistent with promo videos that similarly comment on superhero shortcomings. The line "Hey Wolverine, wanna see my claws?" followed by two middle fingers, was a strong laugh to transition into the start of the show
Holmes' opening monologue was quick to call out what everyone is thinking: Who is this guy and why does he have a show? In lieu of a traditional topical monologue, he made fun of his persona with self-deprecating lines like "I look like a lesbian Val Kilmer." Mostly he seemed to be performing his stand-up act. Holmes' energetic and joyful delivery set a fun and unique tone, but it also provoked questions of whether Holmes can move towards a topical monologue or just lean on his stand-up chops.
So who is Pete Holmes? As a comedian, writer, and the voice of the E-trade baby, Holmes has been at the comedy game for some time as a stand-up and television writer, as well as sharpening his hosting skills on his popular podcast You Made it Weird, where he gained a following of loyal fans, affectionately known as "weirdos." Along with Conan's imprimatur, Jon Stewart lent his help, participating in a casual interview on The Daily Show set, where Holmes used to work as a warm-up comic. When Holmes asked how Stewart how he balances his career with a family, the bluntly hilarious answer was "You really don't. That's the secret. You're on your way to being a shell of a man. All I can say is welcome to the team." 
Instead of booking a big name celebrity, Holmes' first guest was his friend Kumail Nanjiani, a stand-up with a cult following at best.  Nanjiani even called Holmes out, asking "Why am I the first guest?" Instead of the usual promotion of upcoming projects, the interview was more like a conversation. Questions like "Have you ever kissed your dad on the lips?" were funny, but seemed to be asked so Holmes could deliver a joke instead of getting a spontaneous answer from Nanjiani. Overall, the show felt like it catered more to Holmes' podcast and stand-up fans — his closing segment about lesser known video games was actually a repurposing of a bit from You Made It Weird — than to a broader audience. But for the show to be successful in the long term, Holmes is going to have to give fans a reason to tune into both.
The Pete Holmes Show airs on TBS Monday-Thursday at 12 AM ET.