Peyton & Eli Manning's 'SNL' Face Off: Who Was Funnier?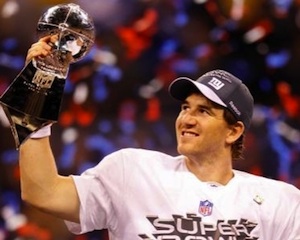 Brothers Peyton and Eli Manning have been competing against each other on the football field for practically their entire lives, but over the weekend they took their rivalry to a new venue: Saturday Night Live.
Athletes aren't known for turning in stellar performances as SNL hosts, but Peyton suprised both the sports and comedy worlds with some memorable skits in 2007. Once again, Eli found himself with some big shoes to fill when he tried his hand at hosting on Saturday. So, which Manning brother has better comedy chops? Let's compare:
Peyton Manning's Monologue
Eli Manning's Monologue
Touchdown: Peyton. Eli scored more laughs by parodying his image as a well-mannered Southerner transplanted to the Big Apple. However, the monologue mainly worked due to the well-worn "ask the audience" format employed whenever a guest can't carry three minutes of standup on their own. Peyton seemed more comfortable while chatting about his football family, and he didn't stumble while reading from the teleprompter.
Peyton Manning's United Way PSA
Eli Manning's "Little Brothers" PSA
Touchdown: Peyton. Eli did a great job of parodying all of the sibling rivalry talk, but Peyton's original sketch is approaching SNL classic status. While Eli definitely deserves praise for turning in a better performance than most non-entertainers (and even some of the pros coughJanuaryJonescough), he still didn't beat his older brother. It seems competition made both of the Manning brothers better on the football field, so maybe it will help them improve their comedy skills as well.
More:
Amy Poehler & Jimmy Fallon Make Fake Movies That We Wish Were Real — VIDEO
The 6 Best 'SNL' Cast Reunions Ever
Mick Jagger To Host 'SNL' Season Finale: Predicting the Sketches