'American Idol' Winner Phillip Phillips has Bad News For Season 12's Singers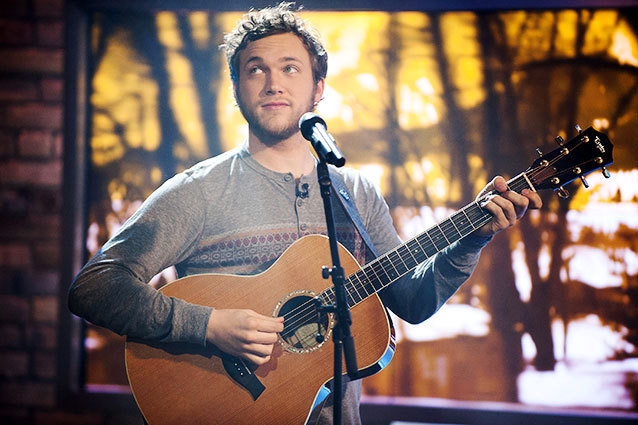 As the Top 9 singers of American Idol Season 12 take the stage tonight for their second performance show, Season 11 winner Phillip Phillips tells Hollywood.com something that might not encourage them very much: No matter how many times they grace the Idol stage, it doesn't get any easier.
"It's terrifying," Phillips told us after his performance of new single "Gone, Gone, Gone" on the Top 10 results show. "I just hate being on live television. It's scary!" It doesn't matter how much experience he has, "it's terrifying because you could screw it up," he reveals.
RELATED: Phillip Phillips Was 'Scared to Death'
Phillips is one of Idol's biggest success stories, at least in recent years. The quadruple platinum status of his winner's anthem, "Home," has allowed him to embark on a tour of colleges for the next few months before playing a music festival in South America headlined by music legend Bruce Springsteen. "I'm very excited," he reveals. "I'm playing a bunch of colleges for about two and a half months, and I have some more stuff planned. I'm playing Rock in Rio in September — I'm very excited about that. I'm opening up for John Mayer and Bruce Springsteen."
Though Phillips is enjoying a promising career, having just opened for Matchbox 20 on the band's latest tour, the singer seems just as humble as ever. That "aw shucks" attitude you see on the show? It's not an act. "Everything's going really well," he says. "I've been super busy. I just got back from the U.K. — I never thought I'd be traveling the world supporting my music! Everybody seems to really enjoy the music and I'm proud of it."
RELATED: 'American Idol' Really, Really Wants a Girl to Win
It might sound cliched, but Phillips says that at this time a year ago he could never have imagined that he'd be returning a successful recording artist. "I don't think anybody thought this would happen," he says. "I know I am very thankful for this whole past year and I do feel very blessed."
What's next for the singer? "I'm always writing," he reveals. "It might be a bad song, but I'm always writing! The second album should be out next year. There's no rush."
And those health woes that plagued Phillips during his Idol season are long gone. "I'm healthy," he says. "I'm healthy as a horse — as long as the horse is healthy!"
Follow Jean on Twitter @hijean
[Photo Credit: Arthur Mola/Invision/AP Photo]
---
You Might Also Like:


Topanga's Revealing Lingerie Shoot: Hello '90s!


25 Stars Before They Were Famous