Phillip Phillips Backstage at 'Idol': Colton Rivalry 'Just For Show'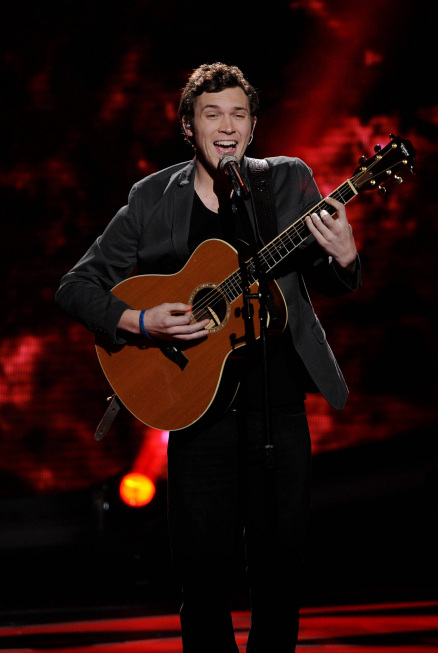 Forget the oldies! This week, American Idol contestants weren't forced to awkwardly sing a hit from before they were born. Instead, they selected songs that hit the charts in the last three years. So for once, they were already familiar with their songs… and the audience could sing along too!
From backstage at Idol — where I sat in the pressroom watching Wednesday's show — it was clear which contestants are quickly becoming fan favorites. Jimmy Iovine got it right when noted the (somewhat) manufactured fight for the female vote between Colton Dixon and Phillip Phillips. If you were choosing the winner based on yesterday's performances, you would have to give the victory to Colton, who experienced near-deafening shrinks as he sang "Love The Way You Lie" by Skylar Grey. (And my fellow reporters were quite enthusiastic about the young contestant as well.) With hands waving in the air, it's undeniable that the girls loved Colton… and the judges do too.
That's not to say that Phillip, who sang Maroon 5 hit, "Give Me A Little More," doesn't have his fans. So is there a growing rivalry between these two front-runners? Don't put your own money on it — Phillip told me backstage that he has no interest in being pitted against Colton for the rest of the competition. "Colton is awesome guy," Phillip said. "We are both completely different in music style, so, to me, there is nothing to compare… Jimmy's [comments] are just for show."
Phillip also joined Elise Testone on stage for a duet of "Somebody That I Used to Know" by Gotye. As if this song wasn't stuck in your head already, Fox made sure that you would know it by end of this week. (In addition to the American Idol duet, Darren Criss and Matt Bomer also sang the song on Glee. And, according to this reporter, Glee's version was stronger.)
Elise was not only praised for her performance in the duet, but received lots of love from the judges for her performance of Lady Gaga's "Yoü and I." Joining Elise in this week's winner's circle — at least when it came to the judges' opinions — was country songstress Skylar Laine, going back to her roots with the song, "You Don't Know How Much I Loved You" by Idol alum Kellie Picker. And since Idol is never one to let romance rumors die, the series once again paired Skylar with Colton for a duet of "Don't You Wanna Stay" by Kelly Clarkson. After the performance, Steven declared that they just made love singing to each other. While many in the audience looked amused at the comment, one person probably didn't find it so funny: Skylar's real-life boyfriend, who she told me about backstage. "Me and Colton aren't dating. My boyfriend knows me and Colton aren't dating," she said. Sorry, Idol.
Stepping away from the romance rumor patrol, Jessica Sanchez and Joshua Ledet also gave strong individual performances. Joshua, like Colton, filled the room with cheers even before he even sang the first note of Bruno Mars' "Runaway Baby." (And you gotta love the matching shirt and socks!) But when Jessica and Joshua joined Hollie for a performance of "Stronger" by another Idol alum, Kelly Clarkson, it all fell apart… even if the judges didn't seem to notice. Those of us backstage — and, I bet, those of you watching from home — clearly heard a performance plagued by pitch problems, to say the least. And that was just the start of Hollie's underwhelming night — she failed to impress again this week with her individual performance of Pink's "Perfect." You know it's a sad day when Ryan Seacrest, who also appeared to having his own cheering section in the audience, squeamishly told Hollie she was "stronger than last week" after the judges gave her another round of critical comments. However, she told me she's taking everything in stride. "I've been in the bottom three for the last two weeks now and I just keep getting bad feedback. I don't feel like my performances are horrible, but maybe some [contestants] have more experience or control," she said.
Perhaps Hollie's positive attitude stems from the support of her fellow contestants, who all told me they were all upset to see her tossed through the ringer with the judges once again this week. As Elise told me, "She was so good tonight. I cried when she was singing because it was the best I had ever heard sing and that's why I was so mad. I was really, really into it and I cry when they give her bad feedback because she didn't deserve it." Of course, we'll have to see if the judges' comments translate to danger for Hollie — will she once again find herself in the bottom three tonight? Come back tomorrow to see a full report from CBS Television City — I'll be in the audience for what will likely be, like last week, a dramatic taping. At least, if Idol can help it!
More:
American Idol recap: No More Drama
Idol Top 7 Preview: For the Love of Seacrest, Avoid These Songs!