Piers Morgan Asks Robert Blake: "Are You Sane?" — VIDEO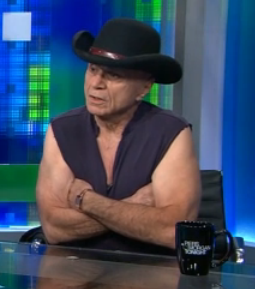 In what can only be described as attention-grabbing television, Robert Blake spoke very, very candidly to CNN's Piers Morgan about his new book, his deceased wife (Bonnie Lee Bakley), her murder and his extremely tumultuous life. The interview was a rollercoaster of emotional outbursts and erratic statements, so it is unsurprising that comparisons are being made by viewers to Charlie Sheen's public meltdown several years ago. His erratic behavior was evident from the get-go: Blake, who later called himself "thin-skinned" was jumpy and untrusting of Morgan, constantly questioning his own knowledge of Blake's life, as well as his intentions. At one point, Morgan even asked Blake point-blank "are you sane?"
Donned in a sleeveless v-neck t-shirt and a cowboy hat, Blake gets very heated and defensive when Morgan asks about what made him liable for his wife's murder in a civil suit, but not in the murder trial. Expletives were thrown about at a rapid-fire pace, as well as a new nickname for Morgan: Charlie Potatoes. Blake was adamant about Bakley's alleged nefarious dealings, insisting that many people wanted her dead. He talked openly about his relationship with Bakley, explaining that he felt bad for her more than anything. At one point, Blake even stated that he never loved her, explaining that he "didn't know her well enough to love her."
There was a time when Blake was best known for his work on the TV series Baretta and the film In Cold Blood, though that notoriety shifted gears after the 2001 murder of Bakley.
The biggest moment of tension (of which there were many) escalated after Morgan questioned him about his wife's murder and asked Blake if he was a lying about everything. Blake fought back, testing Morgan to "tell me where I'm lying, because if you don't know I'm telling you the truth, then you must have a little scratch in the back of your head about where I'm lying. Tell me where I'm lying!" The interview continued down the same path for the majority of the hour-long sit-down. It's best to just watch the videos below and judge for yourself.
What do you think about Blake's interview with Morgan? Did Morgan push too far, or is Blake just unstable? Let us know in the comments.
[Image Credit: CNN]
Follow Alicia on Twitter @alicialutes
More:
Robert Blake Acquitted of Murder