Please, Everyone, Stop Singing That 'Somebody I Used to Know' Song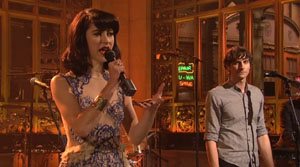 There is no way on earth that you haven't heard "Somebody I Used to Know," the mega smash by Belgian singer/songwriter Gotye (which is annoying pronounced like Gaultier, as in Jean-Paul, and not Got-ya as in the journalism) and Kimbra (which, I just found out is neither the sister on Jem and the Holograms or a small African bush mammal). This song has been absolutely everywhere and the video has been watched on YouTube almost 165 million times. That's more than the number of sequins on every dress every Real Housewife has ever worn on every reunion special. That's a lot.
The ubiquity of the song on the radio and on the canned playlists that retailers use to try to lull you into buying more skorts than you would ever wear in your life is bad enough, but now it is absolutely taking over television. First it was on the April 10 episode of Glee with Blaine whining about how his brother didn't love him. The very next night, Philip and Elise did unspeakable things to the song, leaving it's battered body barely breathing there on the American Idol stage. It's like Fox paid for the rights to the song and wanted to get as many uses out of it as it could. To complete the week of the total takeover, both Gaultier and the mysterious creature known as a Kimbra went on SNL to do the original version of the song. You can't swing a handbag without clubbing this song upside the head. You know things are really bad when there's a viral a capella version that won't leave my Facebook wall alone!
I'm calling an end to it right now. No more "Somebody I Used to Know." It's no wonder the guy in the song got dumped, every time you turn your head you run into him whining about how he's been mistreated by his ex-girlfriend. Shut up, dude. Better yet, sack up and go find yourself another girl and sing her a nice new love song. Anything to get this off the airwaves (and, admittedly out of my head). The constant barrage of Gotye is making me miss the days of last summer when I couldn't even walk down the sidewalk in New York without running into a band of 14-year-old girls singing "Rolling in the Deep." It even makes me miss "Hallelujah" the most overused solo performance/reality show audition/vanity cover version concert ending song in all of creation.
Let's just give this one a rest before we take what is a good, catchy, meaningful song and turn it into something that makes me want to roll my eyes every time it comes on. Let's not make "Somebody I Used to Know" into "A Song That I Kind of Hate."
And for all of you who can't get enough, enjoy the treasure trove of Gotye below.
Follow Brian Moylan on Twitter @BrianJMoylan
More:
'Saturday Night Live' Recap: Josh Brolin's Goatee and Gotye
'Glee' Star Darren Criss and Matt Bomer Sing and Get Emo as Brothers — VIDEO