'Portlandia' Will Return for a Third Season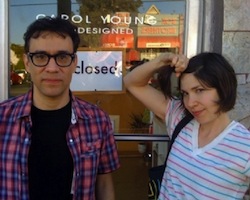 Here's some good news for all of you hipsters out there: IFC has renewed Portlandia for a third season. Though, since the show is now a bona fide hit, it may be time for hipsters to declare it passé.
IFC announced that the show, which stars Sleater/Kinney's Carrie Brownstein and Saturday Night Live's Fred Armisen, will return at its first-ever upfront presentation. The network also revealed plans for Out There, a new animated series, Comedy Bang Bang, a talk show based on comedian Scott Aukerman's podcasts, and a new installment of R.Kelly's Trapped In The Closet.
Portlandia has been a major success for IFC, scoring both a book deal and concert tour, and the network has a few treats planned for fans. This summer it will air the one-hour program Portlandia: The Brunch Special, followed by another half-hour comedy during the holidays — an ideal time for putting birds on things.