'Powerpuff Girls' Return Involves Ringo Starr, Melts Brains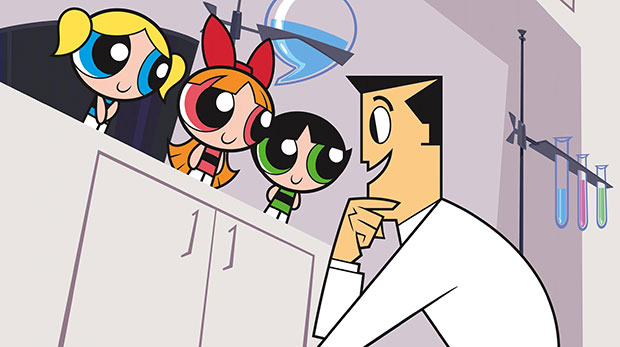 Were you a Blossom, a Buttercup, or a Bubbles? That's one late '90s to mid 2000s question that may actually be better for our souls than the age-old "Are you a Carrie, Miranda, Charlotte, or Samantha?" The B-laden trio are, of course, the pint-sized (or wait, what's smaller than pint-sized?) heroes of Cartoon Network's classic toon The Powerpuff Girls — and, according to Cartoon Network, these little ladies are coming back after ceasing their crime-fighting ways in 2005. But wait, there's a twist! They're coming back… with The Beatles' drummer Ringo Starr.
The three ass-kicking little ladies will return for a "a brand new, redesigned and re-imagined CG-animated special" to air later this year on Cartoon Network, and in case the revival of three little girls with more chutzpah than your average bulky crime fighter wasn't enough, Starr is adding to mix with an original song. It's a good thing CN is only delivering this as a special and not a full-blown series, because it's simply too much good stuff. If it got any better, we might lose our minds faster than a caped green-faced monkey-villain whose plan was just foiled by three adorable tots.
There are no details on what the girls will be doing once they return to the small screen, but we can bet it will involve lots of flying and those signature sweet faces that turn swiftly to the most menacing angry eyes in recent cartoon history when villains run amuck.
And let's hope Starr's original song won't replace the iconic, zippy Powerpuff Girls theme we all grew to love.
Follow Kelsea on Twitter @KelseaStahler
<a href="http://polldaddy.com/poll/6862603/">Are you excited about new Powerpuff Girls adventures?</a>
[Photo Credit: Cartoon Network]
More:
'Girl Meets World' Casts Rowan Blanchard as Cory and Topanga's Daughter
Ben and Jerry's to Announce '30 Rock' Flavor: Other Shows That Could Be Yummy
'Breaking Bad' Casts 'Malcolm in the Middle' Mom as Bryan Cranston's Worlds Collide

20 Hottest Celebrity Bikini Bodies