President Obama 'Slow Jams' the News with Jimmy Fallon — VIDEO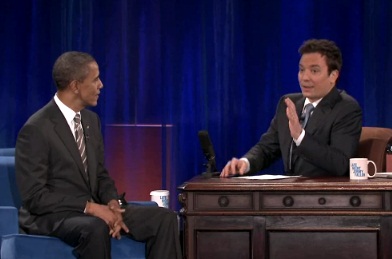 President Barack Obama must love Saturday Night Live. A few years back, the president made a surprise appearance during a sketch on the variety show. He welcomed Seth Meyers to host his White House Correspondents Dinner. And last night, Obama appeared on the late night show of another SNL alum: Jimmy Fallon.
Obama has appeared on The Tonight Show several times, but anyone who watches Late Night with Jimmy Fallon knows there is always more to expect than a straight interview. Obama came out for a comedy routine with Fallon, wherein the duo "slow-jammed" the news and as it turns out, the president has pretty great comic timing.
Afterwards, the president sat down and spoke to Jimmy about his thoughts on education, the environment, and legalizing marijuana… that last topic was provoked by a Tweet from a politically conscious civilian going by the name of "Bobo." Obama also spoke on what kind of comedy he likes, how he unwinds with his dog Bo, and embarrassing moments he has had as president.
More:
Jon Lovitz Calls President Obama a "F**king A**hole"
Obama to Make a Cameo in Entourage Movie?