'Pretty Little Liars' Halloween Post-Mortem: What's Next For The Liars?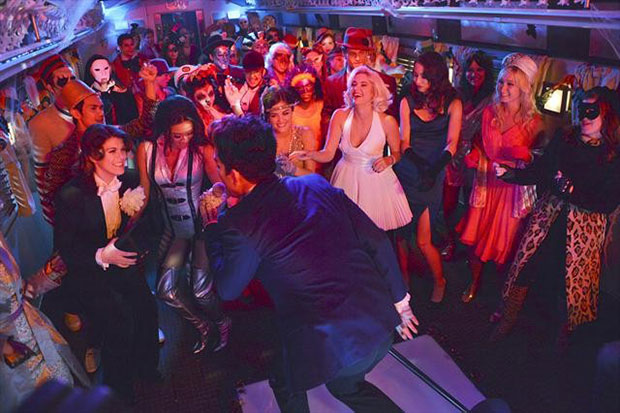 Damn. That was one hell of a ride. In the too short hour-long Halloween Special, fans of Pretty Little Liars were bombarded with so much information that we're now left feeling a bit nauseous, slightly dizzy, and a whole lot of confused. Now that [spoiler!] is dead and the PLL's have been through yet another traumatic experience, the questions is: What is going to happen when the show returns in January? To help answer all of your burning questions, I caught up with the pretty little cast at the Hollywood Forever Cemetery last week to help clear up some of the crazy haze that just creeped across our TV screens.
SPOILER ALERT: Do not cross this line unless you've already seen the Pretty Little Liars Halloween Special. We're about to discuss everything that happened!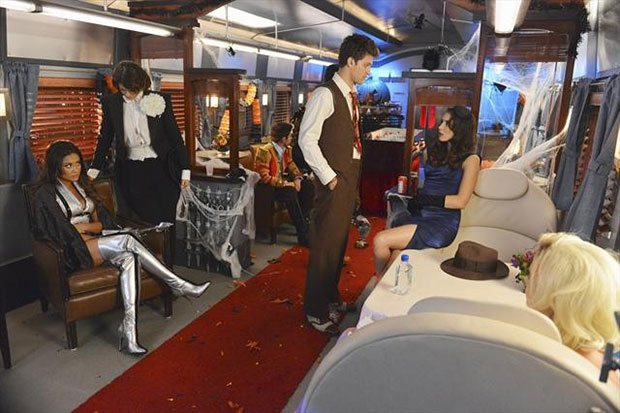 The Rosewood Halloween Ghost Train was seriously disturbing. I'm sure many of you — myself included — found it difficult to pay attention while you were peeping out from behind your pillow. So let's go over everything we learned, shall we?
— After spilling (what seems to be) everything he knows to Spencer (Troian Bellisario), Garrett (Yani Gellman) was killed. Actually if we want to be more accurate, Garret was murdered — by "A." Cause of death? No freaking clue, but he did look extremely creepy lying in that wooden crate next to Aria.
— Toby (Keegan Allen) and Noel's (Brant Daugherty) "who's a bigger badass?" fight knocked over a large cooler. It seems that the drinks for the party were sitting in the same container that a body bag from "Charon & Sons Funeral Directory" was chilling in. Whether or not it's Ali's (Sasha Pieterse) body is still to be determined but we do know one thing for sure: That's so freaking gross!
— Mona (Janel Parrish) has perfected an escape route from Radley Sanitarium and it seems she is now free to come and go whenever she pleases. She's also a really creepy singer and a really, really talented paper-mache mask maker.
— In a flashback we learned Garrett was thisclose to bludgeoning Ali in the head with a field hockey stick on the night of her murder. He didn't actually go through with it… but Jenna (Tammin Sursok) thinks he did.
— Ali takes the word super-skank to a whole other level. On the night of her death, Ali was looking mighty cozy with Aria's dad. "I'm not the one that makes people do these things. If you don't pay for your mistakes, how can you become a better person?" she cooed. Basically their conversation was laced with some major statutory rape vibes.
— Toby is still an "A" and it seems for now his job is to keep calm and continue his charade as the brooding boyfriend. Spencer is eventually going to find out about her man's hypocritical hobbies, but for now she remains blissfully unaware.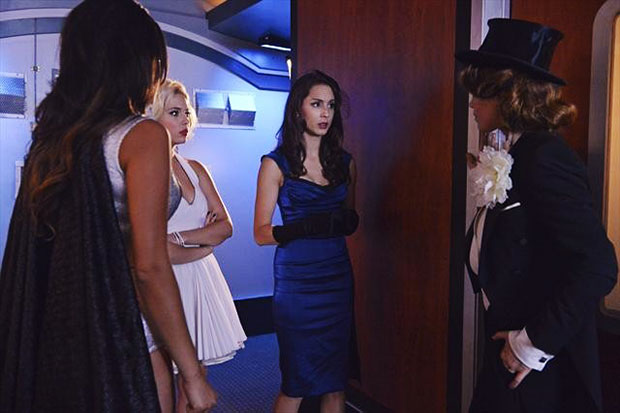 Sheesh! That was a lot of crazy to jam-pack into one episode and, unfortunately, we have to wait  until January before we have more answers. Luckily for all you little liars out there, I'm overly eager and I've gathered up a healthy heaping of spoilers for what's to come when Season 3 continues. Consider it an early Thanksgiving/Christmas/New Years present…
She's a Hoe fo Sho: We caught up with Sasha Pieterse to gush about her inappropriate relationship with a much older man — a man who just so happens to be the father of one of her best fiends. (Totally against girl code.) "It's really exciting and kind of bizarre and it's very on the creepy side and it's so funny how Ali dominates everyone she comes in contact with," she says. (I'm not sure if I'd describe it as "funny," but, yes, Ali's domination skills are a force to be reckoned with.)  
Pierterse continues, "You will see this kind of new dimension and you look at Ali in a totally different way. It's so exciting and I can't wait for the viewers to see it and see what they think. They might hate me a little bit but, they might hate the other person more." Agreed. As effed up as Ali may be, Aria's dad seems to be one sick and twisted man.
Cruel Intentions: We know that Toby is an "A," but there are still so many questions left just begging for answers. For instance, was his entire relationship with Spencer an elaborate lie or does he truly care about her deep down? Keegan Allen — always the romantic — says he believes his character really does love his little liar. "Oh yeah, I feel like he does but it's tough to say at this point," Allen says, "But he is 'A' and 'A' is evil and 'A' is destructive and dangerous, so whatever we see I can't really even tell if it's all an act or if it's all real." When the show returns, be prepared to learn a whole lot more about Toby's past. For example, did you know that he and Ali had a secret past? Get excited for some drama-filled flashbacks!
Rosewood's Power Couple: Noel and Jenna are without a doubt two twisted individuals, but together they're downright terrifying. We asked Tammin Sursok if fans can expect more from this demented duo. "I think we're both really evil so I think it's exciting to not just be doing it by myself but to get to do it together," she says. Brant Daugherty echoed his on-screen girlfriend's thoughts: "There is definitely something there. I think we're kind of bonded in fire. Kind of joined forces and there is a mutual respect. [We] kind of fell in love from there." 
Love, huh? Well, it seems like Sursok has a slightly different view on their relationship: "I would assume that Jenna is worse than Noel so I would say that Jenna is probably using Noel for something and he probably cares about her. That's my take." Hell hath no fury like a (formerly blind) woman scorned!
Crazy Little Liar: It's only a matter of time before Mona is out of Radley for good, but will we learn the secrets of her insane asylum escape route? Yep! "You will find out, yes you will," Janel Parrish nods with a devilish smile. "You'll find out exactly how smart Mona is and how manipulative she is to get her way at any time. She's a genius. She's been playing dumb for a very long time but she gives Spencer a run for her money." When we return to Rosewood, fans may be surprised to see Mona strutting down the high school hall as if nothing has happened. "I'm excited for fans to see Mona's return … [in] the first episode, she comes back to school and she has no idea how people are going to react to her."
Mona's first order of back-to-school business will be to mend things with her former best friend. Parrish says, "Mona may come to her and say, 'I'm all better and I want to be friends. I want to fix this.' And the question is: What will Hannah do?"
What did you think of the Pretty Little Liars Halloween Special? We're you surprised when Garrett died? Are you excited to see what's coming up when season three continues next year? Scream it out in the comments below!
Follow Leanne on Twitter @LeanneAguilera
[Photo Credit: ABC Family]
More:
Lucy Hale and Co. Dish on 'Pretty Little Liars' Halloween Special: "Someone Will Die"
'Pretty Little Liars' Halloween Recap: Murder on the Homo Express
Leanne's Spoiler List: Thrills and Kills on 'Pretty Little Liars', 'Glee' Adds a New Twist