'Pretty Little Liars': Who Will Be the Next Death In Rosewood? — Vote!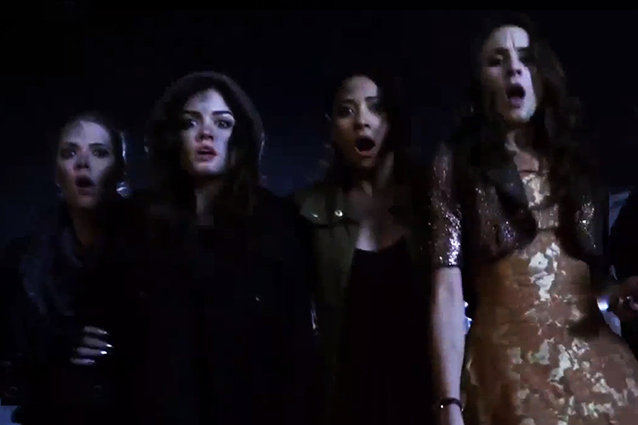 The Season 4 premiere of Pretty Little Liars is just a few days away and there's one big question that we're just dying to know the answer to: What new Rosewood scandal is locked in that police car trunk?
Following the shocking Season 3 finally, we at Hollywood.com had the pleasure of chatting with executive producer Oliver Goldstick and we think we've cracked the case. After discussing the details with the PLL boss, it's safe to assume that there's a body lodged in the trunk of Wilden's formerly lake-bound cop car.
"There's going to be another death, that's something that really launches us into season four." Goldstick teases, "I'm not going to say who or when or where but the population will be one less once again in Rosewood." Yikes! Now that we know what's in the trunk, our next step is to figure out who. We have come up with four unfortunate souls who could potentially be the newest addition to the Rosewood cemetery.
The first and most obvious choice of course is Officer Wilden. We watched as Hanna's mom ran him over with her own car and then later witnessed Jenna and Shana dragging his body out of view. Could they possibly have stuffed him in the trunk before Hanna's dip in the lake?
Or could it be Cece Drake? When we last saw Ali's old friend she was having a heated discussion with Wilden before skipping town. We know that Cece had a visitors pass to Radley that she would use to speak with Mona in secret. Perhaps the rest of the A Team or the NAT Club was not happy with Cece deserting the group so it was time she was kicked out.
We haven't seen Jason DiLaurentis since his the elevator ride from hell and his mysterious disappearance in the hospital. Sure, Emily mentioned that he was staying with a "friend" in Virginia but as Jason says, "You can leave Rosewood, but Rosewood will never leave you." Maybe whoever tried to get to him in the elevator finally finished off the job.
And lastly what about Wren Kingston? Call us overly suspicious but Wren clearly went out of his way to ensure that Mona and Cece could commiserate over their devious deeds. If he was hiding that truth from Spencer, who knows what other secrets he could be hiding.
Now it's your turn to speculate! Cast your vote in our poll below for who you think our Liars will find in the trunk in the Season 4 premiere.
Don't miss the Season 4 premiere of Pretty Little Liars, Tuesday at 8/7c on ABC Family.
Follow Leanne on Twitter @LeanneAguilera| Follow Hollywood.com on Twitter @hollywood_com
More:
'Pretty Little Liars' Fans Will Get A Shocking Reveal In Season 4 Premiere
'Pretty Little Liars' Season 4: Is Mona Officially Off The 'A' Team?
'Pretty Little Liars' Spinoff Shocker: Caleb Moves To 'Ravenswood'
---
From Our Partners:


Zoe Saldana Strips Down For Magazine (Celebuzz)


33 Child Stars: Where Are They Now? (Celebuzz)