'Pretty Little Liars' Producers: Expect 'A' To Be Revealed [WHEN]!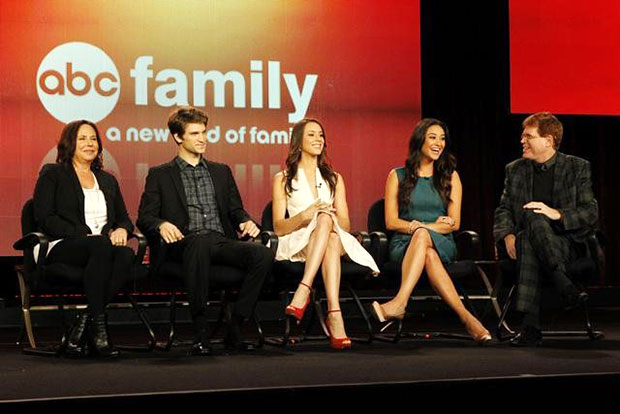 Don't expect to see the end of Pretty Little Liars any time soon. If the producers of the ABC Family hit have they're way, the girls will be trying to figure out who their mysterious tormentor is long after high school graduation.
"They're going to be the Golden Girls Liars," jokes executive producer Oliver Goldstick at the show's panel for journalists at the Television Critics Association winter press tour. The likelihood of the girls even hitting their twenties is slim, though, since as fellow EP I. Marlene King points out, the currently airing Season Three finishes up one time year in the Philadelphia suburb of Rosewood, Penn.
While the producers know who "uber A" is, King says they'll tease out the rest of the A-team for as long as possible. Or as long as the fans are still enjoying the mystery. "I think part of the fun of the show is trying to figure out who A is, and I think [the fans] like not knowing," says King. Besides, there are always new questions raised and new answers given. "We have mysteries within the mysteries and we give very credible clues," King adds.
To get vaguely spoilery (avert your eyes, purists!), King reveals that the girls will find out during Season 3 that Toby is playing for the A-team. But is he fully evil? No one will say for sure. "We have a lot of conversations with the actors where we have to say 'for this episode, this is your truth. It doesn't mean it's your truth for the whole season or the whole show,'" King says.
The fallout from the revelation will be "mind-blowing," King says, and will affect the girls in different ways. Troian Bellisario, who plays Spencer, says that she's found this season thrilling as an actor. "It's very fun to explore 'once you've lost everything you can do anything.'"
Emily will be affected too, says star Shay Mitchell. "I think when the girls find out about Toby being A that it will probably be a bit harder for Emily too because she's always had that special connection with Toby."
Spencer isn't the only one who's dated someone with a connection to A, notes Goldstick, but the Toby situation is different. "This is the deepest we've ever gone."
Pretty Little Liars airs Tuesdays at 8 p.m. on ABC Family.
Follow Jean on Twitter @hijean
[PHOTO CREDIT: Neilson Barnard/Getty Images]
More:
TCA: 'Arrested Development' Season 4 Details
'Arrested Development' Season 4 Scoop
TCA: 'Justified' Spoilers and Cold War Spy Drama 'The Americans' Scoop

Megan Fox's 12 Hottest Moments (Moviefone)

Ryan Gosling's 'Airbrushed' Abs: Plus 19 More Reasons We Love the Actor (Moviefone)