'Pretty Little Liars' Recap: Sisters Sharing Secrets (Season 4, Episode 4)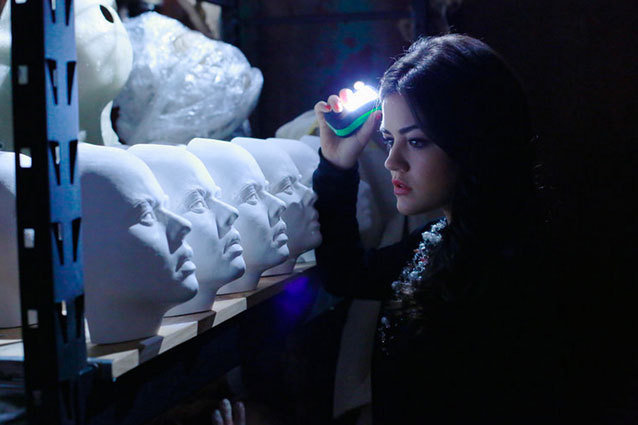 This week's episode of Pretty Little Liars gave us a plethora of answers courtesy of everyone's favorite sister that we love to hate: Melissa Hastings. Read on for all the juicy secrets and scandals from "Face Time" below.
WARNING: The following recap contains each and every spoiler from this episode of Pretty Little Liars (because, duh, it's a recap). Friends share secrets, that's what keeps us close.
Unhappy Reunions: Emily's father is back in town and normally this would cause our sporty liar to jump for joy, however his return to Rosewood is not a cause for celebration. Emily's parents are still being investigated by Child Protective Services because they think that Mr. and Mrs. Fields are somehow responsible for hurting Emily's shoulder and are unfit parents. (Side-Note: Not to worry you guys! All of the parents in Rosewood pretty much suck.) Emily refuses to reveal how she hurt her shoulder and learns that she has a torn rotator cuff. Translation? Bye-bye swimming. Ta-ta Stanford. Farwell to the hers and hers dream house in California with Paige.
Face, Meet Palm: Aria is still keeping her blooming relationship with hottie karate guy Jake on the D-L from the other Liars. (Side-Note: Umm… If was dating that attractive fella, you better believe I'd be shouting it from the rooftops.) But when the two love birds were causally strolling through the streets of Rosewood, Ezra's son Malcolm bursts out to say hello to his former babysitter/potential future stepmom and asks why she doesn't come over anymore. Aria promptly shoos the big-mouthed brat away and tries to casually pass off Ezra as "just one of my teachers." Psssh! Yeah right!
Jake is hot, but he's not dumb. Aria eventually tells her new beau the entre story but is then somehow baffled when he refuses to kiss her at the end of her semi-adulterous tale. He leaves her sitting on her front porch pondering whether or not she's really over Ezra and agrees that she can call him if she's ready for something new. (Side-Note: I'm so confused. New boy is great and all but something inside of me keeps shouting "Ezria forever!!!")
Overly Protective: Hanna is going through a full-on freak out mode because she is worried that her mother is going to get caught by the police for having something to do with Detective Wilden's death. Hanna passive-aggressively challenges the new lady cop in town, lies to protect her mother's where a bouts and freaks out on Spencer. (Side-Note: Face it Hanna, your mom is super shady and has clearly done something very wrong. You know it. We know it. And the fancy new Rosewood police force knows it.) The new straight-faced cops arrive at Ashley's bank asking to see the contents of Wilden's safe-deposit. Inside they found thousands of dollars, two passports (one Canadian and one American) and a gun with the serial number filed off. Clearly Ashley has been up to no good and she finally admits to Hanna that she was in town the night of Wilden's death. Ruh-roh!
Stalking Your Sister: Spencer is determined to figure out what Melissa knows and why she also made a visit to the uber-creepy mask man. She and Aria planted the Melissa mask mold in her suitcase, watched her internally panic, and then followed her back to the uber-creep mask store. While Melissa is busy smashing mask molding and throwing them into a lake, Spencer creeps up on her sister and demands some answers.
Here's what Melissa revealed: Melissa was on the Halloween train, dressed in the same Queen of Hearts costume as Wilden but she was trying to stop him from hurting the liars. Melissa says that "they" were all afraid of him. Melissa told Jenna and Shana to head to the lodge to watch over the liars and see if they could see the identity of red-coat. Melissa claims that Wilden is the one who started the fire, but when Spencer asked if she killed him, Melissa was oddly quiet.
Old People Problems: Toby is still on a quest to find out the details surrounding his mother's death so he tracks down her old shrink and heads out on a mini-solo road trip. Unfortunately Dr. Palmer's mind is not what it used to be and he's been slapped with a harsh case of dementia — he even told Toby to bring his mother to visit him next time! However, the old kook did reveal on useful bit of information. He told Toby to warn his mother to stay away from "the little blonde girl." Could he be referring to Ali? Well… duh!
Biggest Jaw-Dropper: Finding out that Melissa has been trying to protect her sister this whole time!
Most Heart-Warming Moment: To be honest this episode didn't really have a heart-warming moment. I'll just say all the Spoby kisses because those are always adorable.
Most Heart-Breaking Moment: Watching Aria's internal struggle as she tries to decide if she could really, truly ever get over Ezra.
Follow Leanne on Twitter @LeanneAguilera| Follow Hollywood.com on Twitter @hollywood_com
More:
'Pretty Little Liars Recap': Unmasking The Truth (season 4, Episode 3)
'Pretty Little Liars' Recap: To Kill Ali's Mockingbird (season 4 Episode 2)
'Pretty Little Liars' Premiere Recap: Squeals, Reveals, And A New Death In Rosewood (season 4, Episode 1)
---
From Our Partners:


What Happened to 33 Child Stars (Celebuzz)


40 Most Revealing See-Through Red Carpet Looks (Vh1)