'Pretty Little Liars' Season 4: Marlene King Teases 'Big Twists' and Could Mrs. DiLaurentis Be Headed to Radley?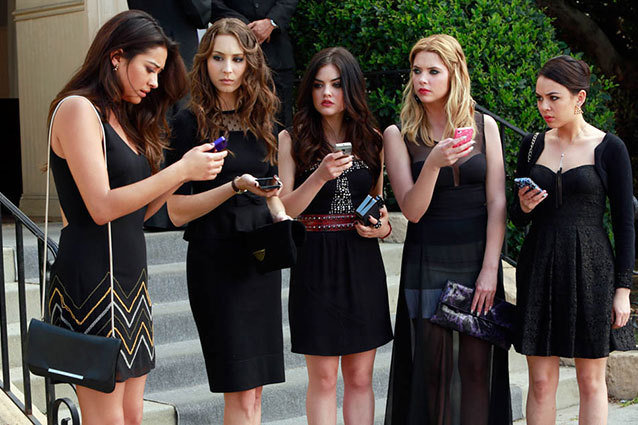 Got a secret — can you keep it? Nope!
We at Hollywood.com are horrible at staying quiet when it comes to the ABC Family mega-hit Pretty Little Liars, and we're ready to spill everything! Last night, we caught up with the PLL masterminds and executive producers Marlene King and Oliver Goldstick, and we've got exciting new details that you need to know before tuning into Tuesday night's shocking Season 4 premiere.
After three seasons of jaw-dropping shocks and deadly twists, King says it's time for fans to be rewarded for their patience and devotion to the drama. "We were very aware of the fact that fans may start to say, 'Can they continue to wow us? Can they continue to somehow get us jumping of our couches screaming at our TV?' So we decided that this is going to be the season of answers." Finally!
The producer promises, "We're giving people a lot of answers. They're shocking answers, and surprising answers, and big twists." Echoing these thoughts, Goldstick reveals that Tuesday night's one-hour premiere is packed with a multitude of shocks and screams.
"We live, breathe, and sleep explosions — that's our oxygen in the Pretty Little Liars writers room. Fans will not be disappointed; there are explosive revelations in store for season 4." Goldstick continues, "There are a lot of questions and theories that will be realized, tested, and challenged, but certainly people wont be disappointed."
In addition to learning what — more likely who — is stuffed in the police car trunk, fans will learn a handful of answers about the train ride from hell on last October's Halloween special. But of course, in true PLL fashion, for every answer, you get at least three new questions in return.
In the Season 3 finale, some of the liars were convinced that Alison was the hero that rescued them from the fire, but could this be true? King answers, "That's the question that we're going to explore starting very quickly with our season premiere. Mrs. DiLaurentis is back, and it's really likening to the pilot. One of our pretty little liars, Emily, walks up to that house and sees somebody moving in and she wants to know, 'Why are you there?'"
King reveals a hefty spoiler that Mrs. DiLaurentis' sanity will be put to the test right off the bat. "Not only is she moving in, but I think we can spoil that she's recreating Alison's room. So the question is, is she getting ready for Ali or is she getting ready for Radley? We don't know."
Could Mrs. DiLaurentis be the next patient to check into the Radley Sanitarium? Goldstick seems to think so, teasing, "Oh, she's wicked! You can't trust this woman." The circumstances surrounding Mrs. DiLaurentis' return are very suspicious, especially because she returns to Rosewood alone, without her husband or Jason.
The producer reveals, "Her motives for returning to Rosewood are dubious and the death — well let's just put it this way: she actually raises more questions for the girls than answers. Some real questions about Jason, about Alison, about that summer that Alison disappeared and what was happening in that yard that summer — she was doing more than just clipping roses that mother."
One thing we do know for sure is that you don't want to miss a minute of Tuesday night's hour-long episode. King has some very important advice for all you PLL fans: "I wouldn't blink!" 
Don't miss the shocking Season 4 premiere of Pretty Little Liars Tuesday night at 8 PM on ABC Family!
Follow Leanne on Twitter @LeanneAguilera| Follow Hollywood.com on Twitter @hollywood_com
More:
'Pretty Little Liars': Who Will Die Next?
'Pretty Little Liars': A Shocking Reveal
'Pretty Little Liars': Is Mona Off the 'A' Team?
---
From Our Partners:


Zoe Saldana Strips Down For Magazine (Celebuzz)


33 Child Stars: Where Are They Now? (Celebuzz)