'Pretty Little Liars' Spinoff in The Works: Welcome to 'Ravenswood'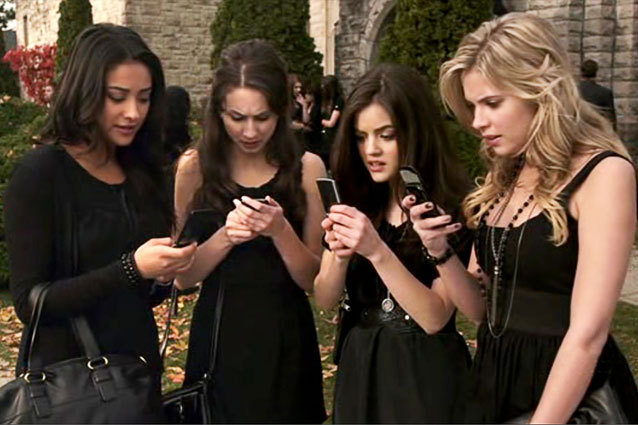 Got a secret, can you keep it? Swear this one you'll save… Any diehard Pretty Little Liars fan knows exactly how to finish the show's infamously eerie theme song, but we've got a secret we bet you didn't know: Pretty Little Liars has been renewed for a fifth season! And we're getting a Pretty Little Liars spinoff!
RELATED: 'Pretty Little Liars' Boss Spills Season 4 Secrets: Could [Spoiler!] Really Be Red Coat?
That's right, thrill seekers. Get ready to travel to the mysterious town of Ravenswood, Penn. where the drama is sure to be just as pulse-racing and terrifying as it is in the neighboring city of Rosewood. ABC Family announced the news Tuesday via the official Pretty Little Liars Twitter account and within seconds the Internet was swirling with countless questions about the new drama.
RELATED: 'Pretty Little Liars' Boss Spills Finale Secrets: A New Murder, Toby's Fate, And Who Killed Ali?
Pretty Little Liars creator Marlene King clarified that she cannot reveal who will be traveling to Ravenswood, but fans can definitely expect to learn all about the town's "dark secrets."
We can't tell you who's in it yet.Like Rosewood, Ravenswood has dark secrets.#Ravenswood

— I. Marlene King(@imarleneking) March 26, 2013
Here's what we do know: the new show will premiere in October, after the Pretty Little Liars Halloween special, and it's about five strangers who have something eerie in common. How mysterious! Curious for more? Of course you are! Click Here for even more Ravenswood secrets, pictures and clips!
RELATED: 'Pretty Little Liars' Finale Recap: The Woman In The Red Coat Is… Who?!
What do you think Ravenswood will be about? Share your conspiracy theories in the comments below!
Follow Leanne on Twitter @LeanneAguilera
[Photo Credit: ABC Family]
---
You Might Also Like:


Topanga's Revealing Lingerie Shoot: Hello '90s!


13 Most WTF Fan Tributes