'Private Practice' Cuts Tim Daly Loose: His Best Quotes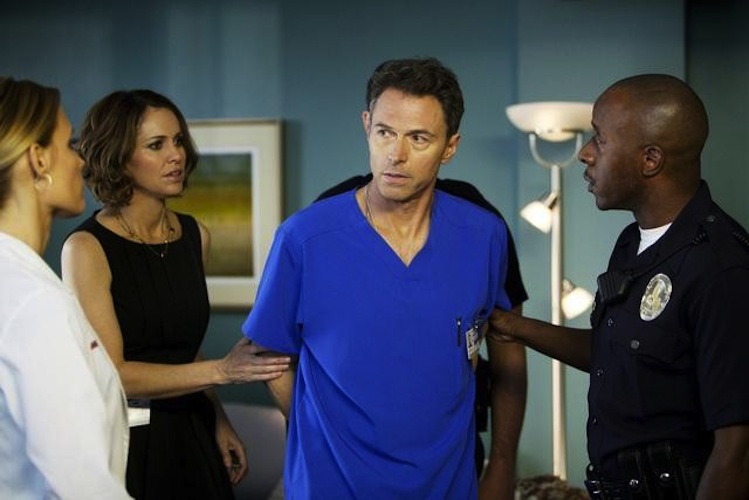 What's the world like without Pete Wilder? Well, we're about to find out. Earlier this month, ABC finally renewed its bubble series Private Practice for a sixth season. But with good news comes a bit of bad news: Original cast member Tim Daly has spent his final days at Seaside Wellness.
The Emmy nominated actor, who played Pete Wilder on Shonda Rhimes' Grey's Anatomy spinoff, tweeted the news himself on May 29: "Wonderful fans of PPP. Shonda informed my agent today that Pete wont be returning for season 6. It was a great 5 yrs. R.I.P. Pete Wilder."
Before this news hit, it was unclear whether or not Daly's character, who was jailed after mercifully taking the life of a suffering patient and later released on bail, would return to the series to sew up the character's loose ends. 
Daly was a member of the original cast, appearing in 2007 as protagonist Addison's (Kate Walsh) love interest, but their relationship shifted as the series progressed. The most recent season was a tumultuous one for Pete (even before being jailed in the finale): he suffered a heart attack in the premiere — and a divorce a few episodes thereafter. Still, it's best to remember the good times, and Pete's particular way with words. Here are our favorite Pete-isms from the past five seasons:
To Addison: "I'm going to kiss you. I'm going to kiss you with tongue. I'm going kiss you so you feel it. Okay?"
To Addison: "You don't know me at all. You think you do, but you don't. So don't call me names."
To Violet: "You want to know how I feel. You want to know how I honestly feel. I feel like I can't get away from you. I feel like you're smothering me. Isn't it enough that you're my wife and nursemaid? You want to be my shrink? Go home, Violet. Go home and be a mother to our son because I don't want you here. You don't have patients. You don't have a license. You have no business being here. Go home."
To Addison: "Life isn't a cheap romance novel. You know, it's supposed to be about making a commitment and honoring it."
To Addison After She Asks Why He Kissed Her: "To remind you that you're not dried up. If you need me to remind you again… let me know."