'60 Minutes': 5 Key Quotes From the Pussy Riot Segment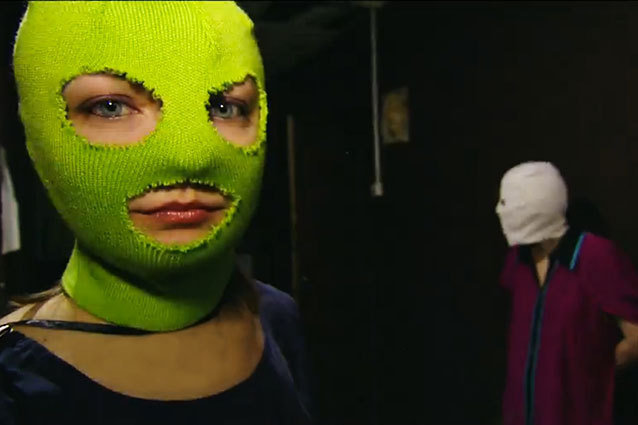 If you only tuned in to 60 Minutes last night to hear distinguished newscaster Lesley Stahl say the words "Pussy Riot" over and over (and "Putin," for that matter) then you weren't listening close enough to the episode. Stahl spoke with the members of the Russian punk outfit who aren't incarcerated for a protest they staged to speak out against Russian President Vladimir Putin at a Moscow cathedral in 2012. 
While Yekaterina Samutsevich was able to speak to Stahl in the light of day, Pussy Riot's drummer, who identified herself only as "Kot," was in an undisclosed location, had to wear a mask, and had CBS alter her voice as she is in hiding.  That's because "Kot" and Samutsevich's convicted bandmates Maria Alyokhina and Nadezhda Tolokonnikova are currently serving two year sentences in harsh conditions for their "crimes." (Samutsevich was freed on appeal last year). 
Many have been vocal and outspoken about the harsh sentence for a freedom of speech issue, including fellow artists like Madonna, but 60 Minutes let those closest to the headline-grabbing story do the talking. Here are five key quotes from the segment, other than Stahl quoting that the riots and protests on his doorstep made him "pee his pants." 
– "This is the language we've chosen, the language of punk." —  Yekaterina Samutsevich
– "It's strange when you're innocent, are you supposed to ask for forgiveness from the judge who's ready to put you away for several years? No, this wasn't even discussed." —  Yekaterina Samutsevich
– "I'm here to say you shouldn't give up. What happened to us is unacceptable." — "Kot"
– "It's an ongoing fight … just because there was a court case doesn't mean we're going to shut our mouths, we have things to say. We're gonna work, continue to do what we do." — Yekaterina Samutsevich
You can watch the entire segment that definitely upset your grandparents on Sunday night here: 
[Photo credit: CBS]
---
You Might Also Like:


Topanga's Revealing Lingerie Shoot: Hello '90s!


13 Most WTF Fan Tributes