'Raising Hope' Pays Tribute to 'Modern Family': 5 Teasers for Tonight's Wedding Ep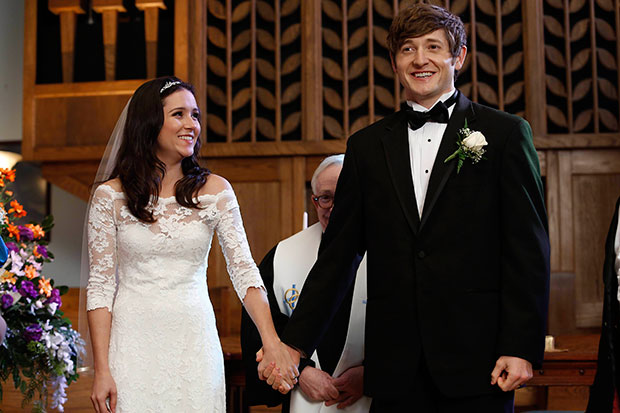 Weddings are amazing, Modern Family is giggle-worthy and Raising Hope is incredible. Can you imagine what would happen if you combined these three things? We can! We just finished screening tonight's episode of Raising Hope and spoiler alert: we can't stop smiling. (No, seriously though, it's kind of starting to hurt…) Jimmy and Sabrina are finally tying the knot and one of their wedding gifts is the Modern Family camera crew. So to help prepare you for the wedding of the year, we've compiled a list of the top five things you need to know before watching tonight's gem of an episode, "Modern Wedding." Read on for all the dysfunctionally fun details…
1. Lights, Camera, Action! Move over Dunphys — it's time for the Chance family to shine. Mockumentary-style shows are nothing new, but watching the sensational simpletons of Natesville talking directly into the camera is a fun and refreshing change for a FOX comedy. The Chances have never been shy about expressing their thoughts, so seeing Burt and Virginia openly deliberate what type of wedding present they should get is especially endearing. (FYI: Hermit crabs, ice and one of those "facepages" are just a few of Burt's fantastic suggestions.) Plus, be prepared for Sabrina's heart-warming message to Jimmy at the end of the episode that will make you cherish this couple even more.
2. Wedding Reversal: In true Raising Hope fashion, Jimmy and Sabrina's big day does not go as perfectly as planned — but why would you want it to? To help kill some time, Burt comes up with a brilliant plan to keep the guests happy: "Reception before the ceremony! Jimmy's a big fan of doing things out of order, just ask Hope!" The reception features taquitos, sick beats by DJ Barney, and make sure you're paying attention to the scenes in the background so you can witness Dancin' Dan's unbelievable moves.
3. Let Them Eat Cake! Every wedding needs a delicious and decadent cake so the couple can celebrate their new lives together by smearing icing on each other's faces. It's an oh-so romantic tradition. Unfortunately there is a hilarious mix-up at the bakery, so Jimmy and Sabrina's cake is huge — and by huge I mean gigantic. One amazing thing leads to another and let's just say that the Natesville Cake-tastrophy is something that is definitely going to make it into the history books. Fingers crossed those icing covered pigeons survived…
4. Big Girls Don't Cry: Fun-fact: Maw Maw used to fake her death all the time to get out of stuff, mostly when she was giving voice lessons to "chubby talentless brats, who sang like a seal." So, it turns out that faking a heart attack was a lot less traumatic then telling them how terrible they were. (Aww, that's actually kind of sweet in a twistedly traumatic way!) Unfortunately, Maw Maw's lies finally catch up with her in this episode and the only way to save the day is with a Frankie Valli-inspired compromise. Friendly advice: You might want to have some earplugs nearby.
5. Wedding Crasher: All you need to know is there's a jaw-dropping, head-scratching, nail-biting shocker in this episode. You're never ever going to guess it, so you'll need to tune in to find out which blast from the Chance's past tries to interrupt the "I do's."
To get you even more excited for the Natesville nuptials check out this sneak peek video below!
Make sure to tune into Raising Hope tonight at 8 PM on FOX!
Are you excited for Jimmy and Sabrina's wedding? Intrigued to see the Modern Family twist? Shout it out your thoughts in the comments below!
Follow Leanne on Twitter @LeanneAguilera
[Photo Credit: FOX]
MORE:
Leanne's Spoiler List: Cocaine Fueled Adventure on 'Girls', Megan Hilty Talks 'Smash' Romance
Martha Plimpton offers herself up as cleaner to Raising Hope fan
'Glee,' 'New Girl' and 'Raising Hope' Renewed Through 2013

20 Hottest Celebrity Bikini Bodies