Randy Jackson Leaving 'Idol' Panel? Why We Need Him as Mentor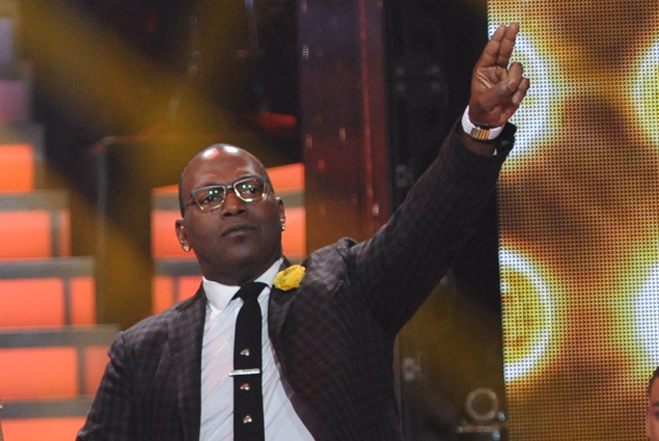 American Idol, as we once knew it, may be a thing of the past. Shortly after judges Steven Tyler and Jennifer Lopez announced their departure from the program in a one-two punch of news in July, murmurs surrounding Randy Jackson's 11-season tenure on Idol began spreading. Would he be the lone judge to return? Or would the one tie to the first seasons of Idol — besides host Ryan Seacrest — finally bow out of the series years after critics of his redundancy begged him to?
It looks like those critics might finally see their wish come true, dawgs. Sources told TMZ that the judge is leaving the panel, allowing for a complete clean sweep. Instead, Jackson will take a page from Jimmy Iovine and act as mentor.
Immediately, media outlets and fans jumped on the news in both celebration (no more "phone book" metaphors!) and disappointment (do we really need Jackson as a mentor?), despite the fact that Fox has yet to confirm Jackson's movement. But they can't help it — it always seemed unjust to fans that Jackson remained on the panel while better judges (Simon Cowell, Paula Abdul, and, yes, even Kara DioGuardi) either quit or were sent packing. Still, as much as I've spent the better part of 11 seasons on the anti-Jackson bandwagon, his presence on Idol is of upmost importance at this point in the show. Which is why I'll be thrilled if he signs on as mentor.
Not that I necessarily think he'll be good at it. In early seasons of Idol, Jackson was as known for piggy-backing on Cowell's critiques as he was for his incessant tendency to repeat himself with phrases like "dawg," telling contestants they could "sing the phone book," and quoting impossible statistics. (He "one hundred thousand million percent" thinks contestants should stay in the competition?) And in its post-Cowell existence, Jackson became known as a judge who would blindly (and deafly) support even the most tone-deaf singers, praising those who deserve criticism and infuriatingly playing favorites. (There wasn't a bum note Joshua Ledet could sing that would keep Jackson sitting.) Considering his inability to give honest and accurate feedback to singers as a judge, how could he guide them as a mentor, someone they should have upmost faith in?
Still, ardent Idol fans need him during these confusing and undecided times. Yes, we still have good old stalwart Seacrest greeting us on Idol's soundstage, but Jackson was our own reminder of the past on the judge's panel. Even when he was wrong (the constant berating of Haley Reinhart), unfair (did we mention Joshua?), or downright eye-roll worthy (all the Journey, Mariah, and Whitney name-drops), his mere presence allowed us to remember the old days, made us realize that despite any big changes, some things would remain the same. He's like an old ugly sweater — we may not have wanted it when we had it, but we only realized how comfortable it was after we tossed it.
Right now, Idol has only locked in former Jackson colleague Mariah Carey on the panel. Word is that Nicki Minaj is set to join as well, officially making the series surrounding a superstar in the making about the existing superstars. It's a change — something that many ardent fans of the series are rejecting in fear that Idol will simply become a lesser version of reality show cousins The Voice and The X Factor. In order to embrace the new Idol, we need a familiar face. We need a connection to the past. We need to remember a "dawg pound" that would ridiculously cheer during a Vonzell Solomon performance. Though I never thought I'd say it, we need Randy Jackson, doggone it.
Follow Kate on Twitter @HWKateWard
More:
Nick Jonas on Idol Rumors: "Would Be a Dream Come True"
Mariah Carey Joins American Idol
Idol Intervention: Charlie Sheen is "Genuinely Interested" in Judging, But We Can't Allow It