Ranking Shows Inspired by 'Sex and the City'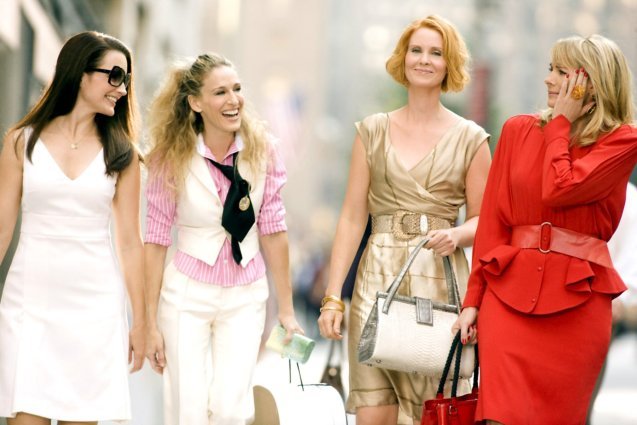 New Line Cinema via Everett Collection
Sex and the City is an important part of television history. It opened up a dialogue about sex, gave a voice to female sexuality and female professionals, and made the Cosmo the drink of the single lady. It has inspired fashion, slang, and even influenced television. Along with Golden Girls, Sex and the City has established a genre of television series. Now, shows about girlfriends defined by four specific archetypes, conversations around a table, and the female friend family unit are popular.
Here is a ranking of some of the best and least inspired shows that give a wink and a nod to Carrie, Samantha, Charlotte, and Miranda.
Girlfriends
Grade: A+
It's hard to deny this show is influenced by the popular Sarah Jessica Parker series. The opening sequence for this Kelsey Grammer produced sitcom is enough to make it seem like a rip-off of the show, but this comedy is so much more. The characters are similar to the archetypes of SATC but they are also full-fledged characters. Tracee Ellis Ross plays the queen bee of the group but she is also a lawyer and not as romantically savvy. The show takes the best parts of SATC and pushes them further. It show empowered professional women, the bonds of friendship, while introducing more race, social issues, and opening up more of a dialogue about feminism.
Girls
Grade: A-
The popular and polarizing Lena Dunham series managed to hold onto the worst parts of SATC and still make an interesting and rich show. Some of the most frustrating parts of the original HBO series were when the women avoided clear communication and reacted impulsively at the detriment to their relationships. It also is a little tough to stomach a series about opulent women who are unburdened in a city as hard as New York. And yet, Dunham's series uses those exact elements to shine a light on being young, entitled, and neurotic in New York. Hannah offers a more emotionally unbalanced Carrie. Marnie is a more sympathetic and less type-A Miranda. Jessa shows the consequences of Samantha's wild ways. And Shoshanna is just as funny as Charlotte.
The Carrie Diaries
Grade: B
This show makes no qualms about referencing SATC. It shouldn't because it's a prequel. A young Carrie (AnnaSophia Robb) ditches high school for the big city and gets a job at Interview magazine in the 1980s. The show unnecessarily leans on the HBO series when a show about growing up in New York and 1980s nostalgia are enough to make it inherently entertaining. The addition of Lindsey Gort as Samantha is also shaking up the series for the better. However, die-hard fans will notice the major differences. They also seem to dust off SATC references in a bit of a forced kind of way.
Cashmere Mafia
Grade: C
This post-SATC series makes no qualms about its connections to the original. It stars former guest star Lucy Liu and employs designer Patricia Field. Darren Star and Candace Bushnell had dueling series at the same time. We side with Star because he's been doing scandalous soaps for ages. This series opted more for exploring the power dynamics and social lives of high-powered businesswomen. That's inherently more interesting, and more of a nod to feminism, than SATC. As you can tell from the scene below, it has plenty of gabbing about men, memorable slang, and friendship. It had the potential to be an upgrade to the original but was battling Brooke Shields and her brows.
Lipstick Jungle
Grade: D
This series lived and died by its casting. Brooke Shields is a viable candidate for a series about successful career women. However, the choice to cast television show killer Lindsay Price did not help. With weird names like Victory Ford and Nico Reilly and the choice to have the three women be a movie producer, fashion designer, and magazine maven seemed very contrived. At least on Melrose Place, Heather Locklear was a sexy, advertising executive. These choices killed a lot of credibility for the logic of the show and its potential for feminist leanings. Rather than going full-tilt comedy the series opted for a more serious approach to "having it all." Paging Liz Lemon.